Celebrating New Year on Aruba, 2012/2013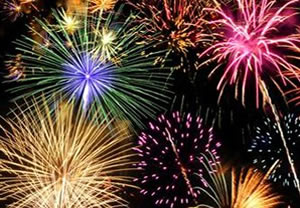 New Year on Aruba still falls under its grand Christmas season, which lasts until the sixth of January. Aruba New Year Eve 2012/2013 is both intimate and explosive (pun intended). While there aren't as many special celebrations as in other places, we guarantee that greeting the New Year in Aruba is still the kind of experience you wouldn't want to miss.
The first (and foremost) thing to do to celebrate New Year is to participate in Dande festivals. The Dande is a music style indigenous to Aruba. It involves a group of musicians visiting houses and playing songs of luck and prosperity dedicated to the household. A hat is passed around and members of the family put money in it for good luck. The musicians they play a couple more songs to say thanks. This tradition was started by the freed slaves, who visited the households after midnight. The Dande tradition had a renaissance recently when some Arubans banded together to preserve it. Dande festivals are held every year so that the next generation of Arubans may pass it on.
Here are other ways to celebrate Aruba New Year Eve 2012/2013.
A Caribbean Cruise. Some tourist cruises offer island cruising packages on the last days of the year, with Aruba being one of the final destinations. Spend the last minutes of the year sipping cocktails on deck and watching the fireworks displays from Aruba's many resorts and hotels.
A romantic dinner or maybe a family dinner. Hotels such as the Hyatt Regency Resort & Casino have special New Years' Eve dinners planned for the whole family. You can watch the fireworks from the comforts of your hotel's restaurant.
Party. Almost every hotel in Aruba will have a New Year party of some sort planned, so ask the staff if/when they're having a party for New Year. That said, many high profile restaurants and bars will have parties, too. This is a great way to enjoy the Aruba New Year Eve 2012/2013 and get to know the locals. Go clubbing and have fun!
Sit on the beach and enjoy the fireworks. Aruba has some of the most beautiful beaches on earth, and there are many people out and about on New Year's Eve. Mingle with the locals and/or lie back and watch the sky light up with fireworks from the surrounding resorts. It's a great (and free) way to welcome the New Year. You may also have a night picnic with your friends and family.
As of this writing, only a few hotels, restaurants, and clubs in Aruba have posted details of their New Year's Eve celebrations online. Thus, we apologize for the lack of specific details. However, you can rest assured that most (if not all) these places will definitely have something for Aruba New Year Eve 2012/2013. We expect to hear more from them soon, and we'll keep you posted. For the meantime, sit back, relax, and enjoy Aruba's triple threat Christmas holidays.