Aruba Millennium Resort
The Place to be in the Caribbean
---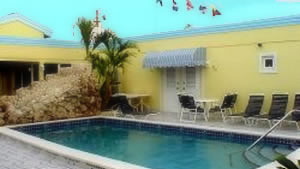 Aruba Millennium Resort is a popular resort located in the island's high-rise hotel district. It is centrally located such that the fine white sands of Palm Beach are within walking distance. Lying in the area where most of the international hotels on the island stand, Aruba Millennium is near the finest dining shops and shopping centers. Its strategic location also means that it is close to hotel casinos and popular nightspots. While most of the finest attractions are located near the resort, you can request for a car rental service that will take you to other places of interest in Aruba.
Aruba Millennium Resort has been renovated not long ago. And it now offers 12 relatively new studios and 10 single bedroom apartments. Basic accommodation includes air-conditioned rooms, kitchen, dining, bathroom and balcony. Each apartment has a small lounge and the kitchen is equipped with a microwave oven, coffee maker, and stove. You can also use the safety deposit box in the room and make calls using the telephone. Room entertainment is provided by a 33-channel satellite television system. Also, in some rooms, the bathroom comes with a bathtub.
Aruba Millennium Resort is the place to be if you are seeking a place to relax. Even if it stands along the busiest hotel district on the island, it can surprisingly maintain a tranquil atmosphere and a good dose of privacy. Within the resort, you will find a large outdoor pool with furnished sun deck. There is even a whirlpool or a Jacuzzi room for tourists who want swirling water while taking in the unique tropical scenery of the island. There is also a mini-market within the resort where you can buy food and other essentials.
Aruba Millennium Resort is very suitable for families, backpackers, and those who simply want to unwind and experience the Caribbean. Some of the most interesting activities that you can arrange while staying in the resort include water skiing, wind surfing, scuba diving, and fishing. If you do not want to get wet, you can play basketball or tennis at nearby facilities. Also, a 5-kilometer drive from the resort will bring you to the island's golf course. It is also interesting to note that Aruba Millennium Resort offers timesharing, which means you can have lodgings on the island at much cheaper costs. One thing is for sure, this resort will give you the Caribbean vacation that you will never forget.