All Saints University - Study Medicine in Paradise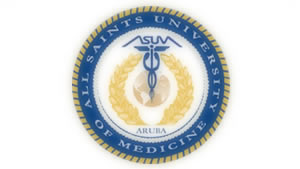 All Saints University of Medicine (ASUM) in Aruba has much more going for it than just location. Although one shouldn't discount the natural beauty of the Caribbean island, studying in Aruba will yield something far more valuable than a good tan - a quality medical education. Aruba is a small island - only 21 miles long and approximately 6 miles wide, but what it lacks in real estate it makes up for in heart. Locals on the island are notoriously friendly and the climate is mild with an average temperature of 82 degrees Fahrenheit (it is never too hot though because of the Trade Winds). But beautiful location is not enough of a reason to choose a medical university - what are the specific arguments for getting a Caribbean education?
One of the biggest benefits of attending All Saints University is the personalized attention you will receive at every step along the educational journey. ASUM has classes that are small in size and that gives professors the ability to give individualized attention to each student. Experienced full time faculty will guide and mentor students at a level that is unattainable at larger universities. All Saints is dedicated to producing thoroughly educated MDs who have a clear sense of the social responsibility of medicine. Students of ASUM do not look at medicine as a simple trade that is to be mastered, but as a noble profession.
The faculty and staff of All Saints University are dedicated to the idea of medicine as a social service. They are committed to providing a quality education at a reasonable tuition rate - well aware that part of the reasoning behind outrageous doctor's fees lies in the outrageous cost of education. ASUM offers tuition fees that are affordable and individually sponsored merit based scholarships. At ASUM the goal is to turn out highly trained MDs who focus on the humanitarian aspects of medicine and serve with compassion throughout their careers.
Attending medical university in Aruba will mean that you will be surrounded by stunning beauty, a local culture renowned for its friendliness and all of the opportunities that life on a Caribbean island implies. It will also mean that you are getting a top quality education at a university that is dedicated to creating doctors with heart and social conscience. If you want to attend a university that can teach you how to make a real difference with your medical degree then All Saints University is the place for you.
Contact Information:
Hato 3E and 3F
Oranjestad, Aruba, Dutch Caribbean
Tel: (297)5832126
Fax: (297)5832127
URL: http://www.asumaruba.org/