Texas de Brazil - Brazilian Steakhouse in Paradise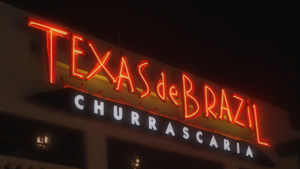 When you take a vacation to Aruba, it's likely that you will want to sample the local cuisine and exotic flair of the country. After all, what good is an international vacation if you're not going to get to experience new dining choices and food styles? However, if you've been looking for a local flavor with a down-home appeal, you should check out Texas de Brazil. This Brazilian steakhouse is located right in the middle of paradise which is perhaps where you would least expect it. However, the great cuisine has made the restaurant popular even among the local luxuries that can be found.
Everything at Texas de Brazil is slow-roasted over an open flame, making for the tenderest choice cuts of meat that you could ask for from a steakhouse. The accomplices to these great meats include a variety of seasonal salads, roasted vegetables, soups, and various other sides. There is a salad bar for those who choose it, but you don't come to Texas de Brazil for the greenery. You come for the ambiance, for the atmosphere, and for the choice cuts of tender meat much like the ones you'd find in your local steakhouse back home. These just have a special touch of Aruba added to them. Make sure that you go early, because you will likely want to go often.
The servers are very professional, and all the meat carving is done right at the table so that you can experience the full effect of steakhouse dining at its best. The prices are rumored to be amazing compared to the quality of the food and service that you'll get, which just makes this another great reason to check out Texas de Brazil for all of your fine dining needs. Only lacking a specific children's menu, this restaurant has just about everything that you could ask for, and maybe much, much more.
The steakhouse theme isn't new or exclusive to Aruba. However, the style of cooking, the environment, and the great wines that are served here are reason enough to give the place a chance, even if it does seem odd to visit a steakhouse in a tropical oasis. When you're looking for something a little different that still offers some sense of normalcy, Texas de Brazil is a great dining choice for your Aruba vacation. When so much seafood is offered around the island, Texas de Brazil can provide a change of pace in an unlikely place.