Enjoy Tranquility and Modern Amenities at Aruba Harmony Apartments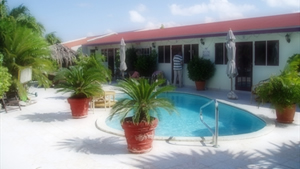 Aruba Harmony Apartments is an ideal place to spend your vacation in Aruba, offering a private and peaceful atmosphere in the capital city. It's the perfect place to relax, unwind, and enjoy the beauty of Aruba. Despite its serene environment, Aruba Harmony Apartments is equipped with modern amenities that can cater to any visitor's expectations.
Modern Amenities for Business and Leisure Travelers
The rooms at Aruba Harmony Apartments are air-conditioned and come with free Wi-Fi access and telephone or mobile phone usage. Travelers who need to attend to business matters while on vacation can make use of the office services within the apartment complex. However, if you simply want to relax and pamper yourself, Aruba Harmony Apartments offers various services, from beauty and spa treatments at Harmony Spa Facilities to beach and car rental services for getting around the island.
One of the best things about Aruba Harmony Apartments is its location. It's only a mile away from the Queen Beatrix International Airport and close to all of Aruba's top landmarks and tourist attractions. Despite being at the center of the capital, it still maintains a tranquil environment, perfect for relaxing after a long day of exploring.
Various Services for Your Comfort and Relaxation
Aruba Harmony Apartments offers various types of accommodation, from bed and breakfast rooms to studio apartments, grand and deluxe suites, and even rental villas. If you're looking for a private and intimate hideaway, the Harmony Lodge is an excellent option. It's ideal for special celebrations, business meetings, honeymoons, or simply to meditate and get in touch with Mother Nature. Each bedroom is furnished with high-quality therapeutic mattresses and oriental furniture, while the kitchen is equipped with a microwave oven, refrigerator, cooking and dining utensils, stove, and even a coffeemaker.
Courteous Staff and Daily Housekeeping for a Comfortable Stay
At Aruba Harmony Apartments, you don't have to worry about a thing. Laundry and housekeeping services are provided every day, except on Sundays. The courteous staff will make sure that you have a comfortable stay, so you can focus on relaxing and taking in the best that Aruba has to offer.
In conclusion, Aruba Harmony Apartments is a perfect place to spend your vacation in Aruba. Whether you plan to stay for a few days or several months, you'll be treated to a tranquil and safe environment, modern amenities, and various services for your comfort and relaxation. Book your stay now and experience the best that Aruba has to offer.
Contact information:
Our Address: Palmitastraat 9, Oranjestad (Ponton)
E-Mail: This email address is being protected from spambots. You need JavaScript enabled to view it.
Telephone: +297 593-7661
Fax+297 588-2133
Netherlands: 0031 412-626920
Website: visit aruba harmony