Aruba Harmony Apartments – Total Relaxation Accommodation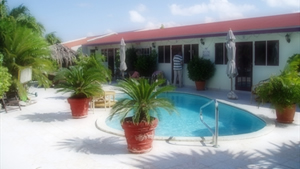 Aruba Harmony Apartments is a perfect place to spend your vacation on the island. Located in a private portion of the capital city, it offers visitors tranquil, safe, and intimate surroundings that can make a vacation more relaxing. But if you are thinking that this resort is antiquated, think again. Aruba Harmony has all the modern amenities that can match any visitor's expectations. The rooms are all air-conditioned and accommodation comes with free Wi-Fi access and telephone or mobile phone usage. In short, a traveler who intends to do business while vacationing can enjoy various office services within the apartment complex.
But if you simply want to pamper yourself while on vacation, Aruba Harmony Apartments also has everything in store for you from beauty and spa treatments in their Harmony Spa Facilities to beach and car rental services for getting around the island. The apartment resort is more than just accommodation as the staff can also help you get access to the best areas for swimming, scuba diving, and shopping. As the resort is located a mere 1 mile away from the Queen Beatrix International Airport, it is within short distance from all the important landmarks and tourist attractions that Aruba can offer. But despite being right at the center of the capital, Aruba Harmony still remains to be a quiet place to relax.
Aruba Harmony Apartments offer bed and breakfast rooms, studio apartments, grand and deluxe suites, and also rental villas. If you are looking for a really private or intimate hideaway that is far from the crowds, you can also ask for the Harmony Lodge. This accommodation is ideal for special celebrations, business meetings, honeymoons or if you simply want to meditate and get in touch with Mother Nature. Basic accommodation comes with a private terrace, bathroom, and a kitchen equipped with a microwave oven, refrigerator, cooking and dining utensils, stove, and even a coffeemaker. Each bedroom is furnished with high quality therapeutic mattresses and oriental furniture.
Indeed, Aruba Harmony Apartments is a good place whether you plan to stay in Aruba for a few days or several months. You really do not have to worry about anything because nothing about your vacation will be neglected. Laundry and housekeeping services are provided every day, except on Sundays. Courteous staff will make sure that you will have a comfortable stay, so that you can focus on relaxing and taking in the best that Aruba has to offer.