Atlantis Submarine - See the World Under the Water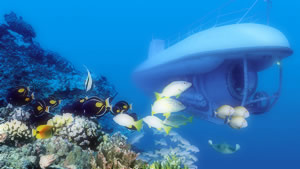 Aruba is known for white sandy beaches, gorgeous weather, and fantastic cultural events that celebrate Caribbean heritage. The underwater life is phenomenal in this part of the world, as well. This is one of the only places left on earth that boasts pristine, unpolluted water. If you want to see sea life like you have never seen before, be sure to take advantage of Aruba's Atlantis Submarine tours, one of the most popular ways to enjoy the world under the water.
The submarine tour in Aruba has been operating since 1990 and has been voted the most outstanding attraction in Aruba. Tours begin in downtown Oranjestad where you effortlessly board a surface vessel. This will carry you off the southeast coast of the island where the submarine is waiting. The tour is 90 minutes, 45 of which you are actually in the Atlantis Submarine. Once you enter the submarine, the real fun begins with a descent into the water down to 120 feet. This is farther than divers are suggested to go, so you will get a more profound look at life under the shore than if you chose to only scuba dive. Fish, coral reefs and other exotic plants and animals can be seen from the many windows in the Atlantis Submarine. More than just sea life, you can also view two sunken ship wrecks off the coast of Aruba. Feel secure and comfortable in the air-conditioned interior surrounded by professional submarine operators. Also, enjoy an informative narration as you soak in the phenomenal sights.
Get up closer than you ever have before to the wonderful underwater world while staying cool and dry. This once-in-a-lifetime opportunity simply cannot be missed. You will be enchanted by the gorgeous sights in more colors than you knew existed. All too soon, your underwater journey will come to an end and you will find yourself resisting the return to reality. Then again, you are in Aruba, land of paradise and sand. To prove you participated in this unique experience, you will be gifted an official dive certificate as well as unforgettable memories you can share with your jealous friends and family.
To truly appreciate all Aruba has to offer, you must not pass up the chance to take a ride in the Atlantis Submarine. The beach is beautiful, yes, the spas are matchless, but without an underwater tour, your trip is not all it could be. What an experience awaits you!