Antilla Wreck – Great Diving in Aruba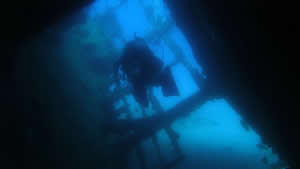 If you are a diver planning a vacation in Aruba you really need to consider visiting one of the most renowned dive sites in the world, the Antilla wreck. At 400 feet long this is one of the largest wrecks in the Caribbean and in fact, you probably won't get to see the whole wreck in a single dive. Plan on two or three dives if you want to inspect the entire hull and take in the amazing sea life surrounding it. Most people won't mind going back once they have gotten a first look at the site.
The Antilla wreck is one of intrigue. The ship itself was known as the ghost ship during its time in the Second World War. Allied subs and destroyers were never able to locate the vessel. The history of the sinking is as interesting as the wreck itself. Aruba was positioned on the side of the Allies during WWII and when the Captain of the Antilla was ordered to surrender the ship while it was at anchor where it lies today, he decided instead of letting the ship fall into the hands of the Allies he would sink it himself! That is how it came to pass and now it is the prime diving site in Aruba.
Diving the Antilla wreck is fascinating as the ship itself is fully intact due to the way it was sunk. That means besides exploring everything there is to see on the outside of the 400-foot hull, you can also wander around inside the ship as well. Inside and outside the hull are colorful sponges and coral that lend perfectly to some spectacular underwater photography. The sea life is amazing as well. You will find all manner of school fish of every color shape and size.
If you are so inclined, you can also have a great experience diving the Antilla wreck during the nighttime too. The gloomy interior complete with stairways and cargo compartments that go to nowhere can really get your pulse racing. Weaving in and out of the many doorways and companionways will be an experience you will not soon forget. The Antilla has been a favorite of divers for over 50 years and is well known as one of the most pristine sites in Aruba. It would serve you well to find a local guide to bring you through the wreck to see everything.