Aqua Windies - Aquatic Fun for Everyone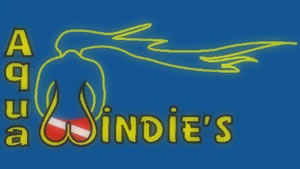 Aruba is one of the top Caribbean vacation destinations. Famed for its crystal blue waters, amazing reefs and white sand beaches, it is a tropical paradise, surrounded by beautiful reefs and exciting shipwrecks. Aqua Windies is a unique dive training and aquatic fitness facility. Catering to singles, couples and families, Aqua Windies has been serving Aruban vacationers for more than two decades. Started by a husband and wife team, it is has always been a family operation, and as such has activities for the whole family.
Founded by an emergency room nurse named Renee and his SCUBA dive certified wife, Windie, Aqua Windies offers professional PADI dive instruction. Whether you are just starting out or are looking for more advanced certifications, Aqua Windies has a class for you. There are even children's dive classes offered, which makes a dive vacation possible for the whole family. Dive groups are kept small, with only four to six divers on each dive, so that everyone stays safe. There are even night dives with lights offered, for those who would like to see something new!
For vacationers not ready to strap on a tank Aqua Windies offers swimming instruction, water fitness, hydro riding and snorkeling. There are even classes for the youngest vacations. Toddler swimming classes aim to teach children and their parents key water safety techniques that can save a baby's life. For older children and adults, there are swimming classes that focus on technique and basic swimming techniques. Aqua Windies philosophy is that with two thirds of the Earth's surface being covered by water, swimming is one of the most important things that a person can learn. This is why they are favored not only by vacationers but by residents of Aruba.
Aside from just swimming and diving, Aqua Windies offers an Adventure Camps. These camps are run during school vacations and are popular with vacationers and island children alike. Children will go swimming, snorkeling, body boarding and more. Aqua Windies also boasts one of the biggest and best dive shops in the Caribbean. Whether you forgot your dive equipment and are looking to rent some or would like to purchase new gear or souvenirs, Aqua Windies has just the thing for you. No Aruban vacation is complete without time spent on the water, and Aqua Windies has everything that you need to make your time in the water fun and safe.
Address;
Dr.Horacio E.Oduber Blvd. #4
Aruba, Dutch Caribbean
Tel: (297)5835669
Fax: (297)5860464
http://www.aquawindies.com/