Government of Aruba
Interesting Points about the Government of Aruba
---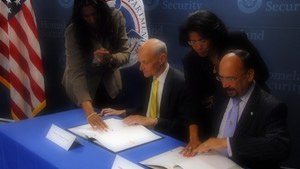 Since Aruba is under Dutch rule for over a century now, it is not really surprising that the government of Aruba has Dutch origins. This small island used to be a member of the Netherlands Antilles, a Netherlands territory of six islands in the Caribbean. However, in January 1, 1986, Aruba gained its autonomy and its "status aparte", which means that it is now considered as an entity which is separate from the Kingdom of Netherlands. In fact, the Kingdom is presently composed of three states: Aruba, Holland and the Netherlands Antilles, which are now consists of five islands including St Eustatius, Curacao, St Maarten, Bonaire and Saba.

Although this Caribbean tourist destination is already autonomous, the constitution and the government of Aruba still have Dutch influence. It is also apparent that Aruba espouses democratic principles of the West. However, it is important to note that the Queen of Netherlands is still the one who appoints the Aruban governor, who in turn acts as the queen's representative and is in office for six years.

The form of government of Aruba is parliamentary. Actually, the parliament holds the legislative, judicial and executive powers in the island. Much like in other countries in the world, the seat of the parliament of Aruba lies in its capital, Oranjestad (which is based on Dutch House of Orange). The members of the parliament, which is composed of 21 members, are chosen by universal suffrage. The main function of the Governor of Aruba is to ask the party that obtained legislative majority to create a Council of Ministers that will hold executive powers. This council is composed of seven members. Of course the head of the council is considered as the Prime Minister of Aruba.

The government of Aruba is serious in maintaining peace, security and prosperity in the island, so you will see that the people of Aruba fully support their parliament and government. However, even if this tourist jewel in the Caribbean holds a separate status from the Netherlands, it still shares special economic, political, cultural and even defense ties with Holland and the other members of the Netherlands Antilles. Although decisions about communication, aviation, customs, immigration and other internal matters are decided by the local government of Aruba, the Kingdom of Netherlands still tackles the foreign affairs, citizenship and defense matters in Aruba. This is really not surprising because Aruba is such a small country to be able to have enough forces to defend itself from foreign invasion.