Aruba Low Rise Hotels
For the Beach Bum Vacation, Low Rise Hotels are the Way to Go
---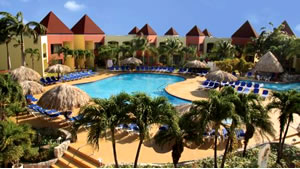 Low rise hotels are a popular accommodation option for visitors to Aruba. Most of these are located within a fifteen minute walk of downtown Oranjestad. The lowered roof lines help to give the impression of a low key beach town. These hotels are a mixture of timeshares, boutique hotels and larger, low-lying resorts. Lining the beaches of Bushiri up to Eagle, they lay within minutes of the entertainment and amenities of the larger high rise resorts.
The low rise hotels provide a quiet relaxed option for those visiting Aruba for the first time. They are located either on the beach directly or just across the street. Some of the hotels cater to couples only. The timeshares are usually occupied by older couples with children and grandchildren sometimes coming along. Some of the larger resorts provide all-inclusive options for their guests. Many of the options available include a full kitchen, spacious living area and separate bedrooms. This is great for family and friends hoping to save a little money. Restaurants are abundantly available though. If gambling is what you want to experience, there are a couple of casinos close and more just a few minutes down the road.
The atmosphere around the low rise hotels area is more casual and laid back than the high rise ones down the road. Some refer to it as the "beach bum" option for an Aruban experience. Quite a few rooms provide the ability to roll out of bed and go down to the beach directly. You don't have to go through the lobby or down the hall. With kitchen options available, you don't even need to leave your room from the time you arrive if you want it that way. Many of the beaches along the low rise area are among the best on the island. Manchebo Beach is the largest beach on Aruba and is tops-optional. Eagle Beach is a Mecca for motorized motorsports and beach activities.
But if it is the high life you want, the low rise hotels are close enough to walk or ride to. A couple of casinos are located in the same area of town. And the night life of Palm Beach is just up the road. With clubs and casinos everywhere, Palm Beach offers the excitement that you may be looking for. At the end of your evening, though, you can still go back to your quiet room and enjoy the quiet and peace of the beach right outside your door.