The Paddock - Local Cuisine and a Good Time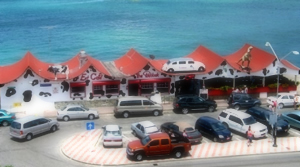 For a popular hangout in Aruba focused on Dutch residents and tourists, visit The Paddock. This establishment is located in the capitol of Aruba, Oranjestad. This bar offers a unique experience to those who choose to utilize it. Happy hours and other events change daily, allowing for a new experience for diners every day of the week. The cow-themed bistro is open during night hours for a fun night on the town. On weekdays, The Paddock operates until 2:00am and 3:00am on weekends. For an unforgettable dining experience, visit this location during your Aruba vacation.
The Paddock employs energetic, entertaining staff members that add to the Dutch atmosphere because most of them are European. They serve all your favorites: cocktails, tea and coffee to drink with hamburgers, omelets, chicken wings and more to eat for lunch or dinner. Also, try something less familiar off their menu like Spaghetti Bolognaise or Caribbean Fish Soup. This decidedly Dutch-influenced bistro supports any kind of appetite. It offers drinks, snacks and full meals for all tastes. Some are obviously Dutch, like Wiener schnitzel while others are from Asian influences, like oriental stir-fry. Whether your tastes sway toward seafood, like you might be expecting in the Caribbean, or something less fishy, there is something for you on the menu.
Since this is popular tourist location, you can also buy promotional items like a T-shirt, wallet, cap or polo shirt. This eclectic diner is fun for the whole family. The atmosphere is fun and inviting with walls and menus covered in memorabilia and photographs of past visitors. There is always a special event happening at The Paddock. $2.00 Sundays, Wednesday student nights, Red Hot Saturdays and more are promotional events that happen on their designated days. Live music is a regular occurrence at The Paddock, providing entertainment for diners as they enjoy a fantastic meal. You will never get bored with all the varieties this bar has to offer. For anyone who wants a fun time unrivaled by any other locale in Oranjestad, be sure to take a peek into The Paddock.
Everyone going on vacation expects to find local places to eat and be entertained. In order to fully enjoy a trip to somewhere exotic, the food must be enjoyable. For a guarantee on the matter, visit The Paddock in Aruba and find out what everyone is talking about.