Havana Beach – Spend All Day and Night Here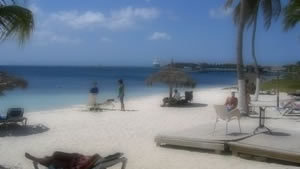 If you are looking for a Caribbean vacation with a little night life activity, then you should check out Havana Beach in Aruba. It is located directly between the port and the airport, so it makes it a favorite of locals. The best part about it is that the beach will entertain you during the day, while the restaurants and clubs draw your attention at night. You really can spend an entire day here without leaving the beach. Its location makes it easy to find and a convenience regardless of where you are staying. It is located in Oranjestad, which is Aruba's capital and busiest city.
When you get to Havana Beach during the day, you will be able to enjoy the white sandy beaches and clear blue waters. Even if you do not stay here, you have public access to the Havana Beach Club's swimming pool and pool bar, which is a great way to spend a relaxing day at the beach. There is no way you will not be able to enjoy your lazy day at the beach with the views you will see from the beach. If you have the option of staying into the evening, you will be glad you did.
Havana Beach is well known around Aruba for its fabulous night life, especially the dancing and movies that go on here. If you can plan your trip for a Monday, you are sure to enjoy the movies they have on the beach here every Monday. Watching a movie has never more been more enjoyable than when it is watched from the beach. The other days of the week you can find the locals dancing the night away here. It is a great beach bar that plays a mix of live and recorded music. You will find it hard to resist getting up and dancing.
For anyone who thought it would be difficult to find the right mix of day and night fun at the beach, Havana Beach proved you wrong. The best part about it is its close proximity to the city, so you can come and enjoy just the day or just the night. If you can free up your entire day, the drive back to your hotel at night will be a quick one. This is a great place to go and enjoy what the locals enjoy on a regular basis. You will be glad you made the trip.