Experience The Finest Caribbean Vacation At Renaissance Aruba Resort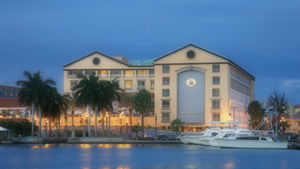 If you are looking to take a vacation right in the heart of Aruba the Renaissance Aruba Resort is the place to go. This resort and casino truly caters to all vacationers' right in the heart of the capital. There are two separate hotel choices you have to choose from with both offering style and a tropical elegance.
The first hotel, the Renaissance Marina Hotel, is for the over 18 crowd. This hip adult-exclusive destination is complete with amenities and a pool area. If you are looking for a family-friendly facility, the Renaissance Ocean Suites is the way to go. This features accommodations and facilities for families as well as kid's activities.
When going on vacation you have to have some kind of souvenirs to take back part of the trip with you. Luckily, the Renaissance Aruba Resort is located right in the middle of Aruba's top shopping district. This is also the home of the best casino and nightlife in Aruba.
Part of the excitement of going to Aruba is to bask in the gorgeous temperature and surrounding. Beachgoers will enjoy the 40-acre private beach on Renaissance Island or you can relax in the exclusive Spa Cove. There are numerous water activities you can take advantage of including windsurfing, snorkeling, scuba diving, or simply lounging around the beach.
There is a wide array of activities that you will be able to enjoy at this exciting resort. Everything from bowling to horseback riding to jet-skiing, you are sure to find something to keep you busy. And if you are looking to get out and explore the beauty of this gorgeous island, there is nature preserve and trails for you to jog or walk along.
Another enjoyable activity you can partake in is beach volleyball. There is nothing quite as fun as getting involved in a friendly game of volleyball underneath the hot sun with the sand between your toes.
For those looking to hit the greens, there are a couple of different golf courses for you to look into. The links is located just four miles away from the resort while Tierra Del Sol Golf and Country Club is located eight miles away. If you are a golfer you cannot take a vacation without trying out what the island has to offer.
Whether you are looking to get away from the kids or are wanting to take a family vacation, Renaissance Aruba Resort has a hotel for you. You can experience the finest Caribbean vacation at this spectacular resort filled with entertainment, activities and relaxation.