Marandi - Aruba's Sunset Restaurant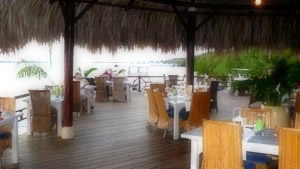 Marandi is like no other restaurant on the island. It offers an open-air palapa hut and beautiful wooden floors so that you can enjoy the true island feel while you dine. The restaurant is located right on the Laguna Pier, so that you can enjoy a lovely dinner on the ocean, along with a majestic view of the island and seas. The owners of Marandi were captivated by the island's natural beauty, which is where they drew the inspiration for the restaurant from. The environment is cozy, the décor is nature-inspired, and there is something for everyone to be found at this beachside dining wonder.
The food at Marandi varies on a daily basis, and includes international flavors with a touch of Caribbean flair. They offer daily specials and the catch of the day, giving you something different to look forward to every time that you visit. The staff at this restaurant is attentive, friendly, and professional. They will see to it that your every need is tended to, no matter how simple or how complex it might be. The island attitude is carried over to the Marandi restaurant, and perhaps might be a little stronger because of the chosen location and décor that is used. The restaurant is located just down the street from the airport, making it an easy find for anyone.
Marandi, like many establishments in Aruba, is closed Sundays, and opened every evening for dinner only. It is considered to be one of the most romantic restaurants on the island, which says a lot since there are so many different ones to choose from. You can find a variety of main dishes, sides, appetizers, and even desserts that offer classic international tastes with a touch of the Caribbean, making your dining experience a trip around the world without even leaving Aruba.
Marandi has only been in business since 2007, but has gained a lot of popularity regardless of its age. They were located at Havana Beach for 4 years, but have since re-opened in Aruba to offer their cuisine to those vacationing on the beautiful island. What more could you ask for on your vacation? Fine food, a beautiful setting, and an ambiance that offers nothing but the most intimate, cozy setting that you'll find anywhere in Aruba. The kitchen is open, as well, allowing you to enjoy the view of preparation if you don't want to enjoy the view of the ocean. All in all, this place is a must on your Aruba vacation.