Eagle Beach – A Local Favorite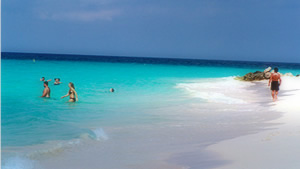 This beach gets crowded on the weekends but for good reason. Eagle Beach is a favorite of tourists and Aruban locals because of the shallow calm waters and pure white sands. It is located just next to the most popular beach in Palm Beach, but its waters and sands are a great rival to Palm. People who have been there say the water is so calm it is like being in a huge swimming pool. You also will not be able to get over the sand. It is sure to be the whitest sand you ever have seen on a beach.
Although there are not as many resorts and hotels at Eagle Beach, you will find enough to do whether you stay your trip here or drive in from another Aruba resort. This beach really is the best of both worlds when it comes to ultimate beaches. If you love beaches that offer great water sports such as snorkeling and jet skiing, this is the place you want to be. The waters are so shallow and clear that snorkeling will off you amazing views. On the other hand, if you want your beach vacation to be full of lazy, relaxing days, you will find that here as well.
Eagle Beach also is a great place to sit and enjoy a beach picnic. There is plenty of shade provided by the many palm trees scattered across the beach. If you are not into sitting under trees, then just bring an umbrella and your lunch. This makes the beach a great place for family vacations because you do not have to worry about rapid waves or deep water here. The great shade makes it even better because you can enjoy a nice family moment while eating your picnic lunches under the trees.
One of the best parts about Eagle Beach Aruba is its length. It is a wide and long beach that makes for great strolls down the sand. By the time you get from one end of the beach to the other, you will have received a perfect tan. There is a reason why locals go to this beach as well, and not just tourists. They know how great of a beach it is and want to take advantage of it as well. Anywhere you go on vacation it always is good to find out where the locals go because those places usually are the best.