Screaming Eagle Restaurant - The Name Says it All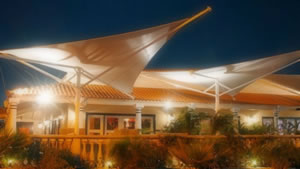 The Screaming Eagle Restaurant and Lounge is chic, contemporary, and offers something for everyone looking to enjoy the nightlife while they are in Aruba. With so many dining destinations to choose from, it might be hard to narrow your choices. However, if you take the time to check out everything that the Screaming Eagle has to offer, you might realize that it's a better option than you might have initially thought. The food here is considered French-fusion, so if you're looking for steaks and burgers this isn't the place for you. However, if you're looking for a trendy place to hang out and have a little party, then you have come to the right place.
The restaurant is only open during dinner and cocktail hours, which means that you'll have to put in a reservation if you want to check out the Screaming Eagle Restaurant for yourself. There is an exhaustive list of cocktails and wine that compliment all the food that is on the menu. And if the food isn't enough to excite you, consider the ambiance and atmosphere of this wonderful restaurant. With exquisite dining accommodations, luxurious and happening lounge areas, and a great overall friendly feeling, this restaurant offers something for everyone looking to enjoy dinner and cocktails in a more contemporary island establishment.
The Screaming Eagle Restaurant is affiliated with the Flying Fishbone, but offers a completely different experience. The Miami-style bar atmosphere coupled with the French-fusion cuisine and the edgy design concepts make this a great place to visit for anyone looking for the hip and happening in the wonderful world of Aruba. Whether you're here for a few days or a few weeks, you need to book a reservation to the Screaming Eagle just so that you can see that Aruba isn't only for classic restaurants and authentic cuisine.
Most of the people who visit the Screaming Eagle Restaurant and Lounge have great things to say about it. There are a few disappointments, but this is usually due to a lack of information about the restaurant itself in advance. If you're looking for fine dining at its best, don't bother. However, if you want a hip, edgy dinner and evening party with cocktails that you could only dream of, the Screaming Eagle should definitely be on your list. For families, adults, or anyone that just wants a taste of the new along with the island atmosphere, this is a great choice.