The Aruban Resort – For an All-Around Aruba Experience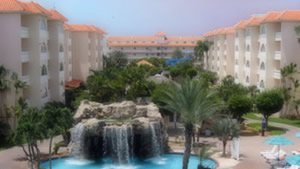 The Aruban Resort is one of the biggest and most popular resorts in Eagle Beach, which is ranked as the 7th most beautiful beach in the world because of its picturesque landscape, powdery white sand, and fantastic clear blue waters. With over 360 fully equipped suites, various amenities, and vast 50,000-square foot casinos and restaurants, you will surely find everything that you want in a luxury resort right in The Aruban. Aside from being a few minutes away from the international airport, it is also important to note that this fancy resort is very near Aruba's downtown capital of Oranjestad, a place where you can also find various exotic restaurants, bars, and other entertainment facilities.
What makes The Aruban Resort tick? For one, the condo-style accommodation is fantastic yet affordable. Each of the suites in this resort contains a whirlpool bathtub, wireless Internet, fully functional kitchenette, 2 colored televisions, and a private patio or balcony. If you have a baby, you can also request for a baby crib. Aside from the fantastic accommodation, The Aruban is also known for the hospitality of its staff. When you are here, you will surely feel pampered like royalty. From the daily housekeeping to the staff at the poolside, you will surely be served with a smile.
The Aruban Resort is also popular because of its world-class amenities. You cannot find another resort in Eagle Beach that can rival The Aruban's swimming pool with a 150-foot slide. Aside from this, the resort also boasts of another free-form swimming pool, two whirlpools, and a children's pool. For those who are figure conscious and sports aficionados, the resort has five walking trails, five lighted tennis courts, and a state of the art fitness center. You can bring your work in this resort because wireless Internet is available throughout the area. If you do not have a laptop, you can still make use of the Internet café found in the lobby. Also for special requests, the concierge is available 24/7, while the tour desk will accommodate special tours and activities that you want to do in this Caribbean island.
Another reason why people flock to The Aruban Resort is the various on-site activities available. Aside from playing in the casino, you can also participate in barbeque nights, bingo, and water aerobics among other things. Meanwhile, the popular land and water activities in Eagle Beach include dinner cruises, jeep safari, horseback riding, sea treks, wind rider sailing, snorkeling, kayaking and scuba diving.
The Aruban Resort & Casino at Eagle Beach
J.E. Irausquin Blvd. 248
Noord, Aruba Dutch Caribbean
Tel: (297) 527-9122
Fax: (297) 587-5474
Website: http://thearuban.com
Reservations: 866-627-4171 or 888-801-7981