Arashi Airplanes – Great Aruba Dive Site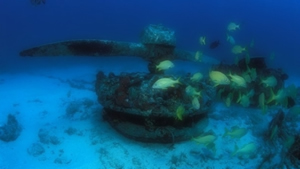 For your next Aruba vacation why not consider a dive at the Arashi airplanes site? This great wreck site is perfect for beginner divers as well as experts. The dive site consists of two wrecked aircraft, a Lockheed Lodestar and a twin engine Beechcraft. Both are in low depth water making them easy to get to and enjoy. The Lockheed Lodestar is in 50 feet of water while the Beechcraft sits in 20 feet, perfect for beginners or advanced divers as well. Diving on the Arashi airplanes wreck site is a great way to spend an afternoon.
Combining a dive on the Arashi airplanes site with your Aruba vacation is sure to be memorable. As you glide along the bodies of the wrecked airplanes you will be encompassed by all manner of colors, shapes and sizes of sea life. Coral and sponges abound in and around the wrecks. Interspersed in the coral you can expect to see scores and scores of schools of both parrotfish and angelfish. Some people have even reported seeing swimming octopi on occasion. Aruba offers some of the best diving in the world and this particular site is a favorite amongst Aruba vacationers.
If you are into diving at night, the Arashi airplanes site is perfect, especially if you are going on your first night dive. It certainly is an experience you won't soon forget. The waters in and around Aruba are crystal clear so you are able to see well ahead of you and behind you. This kind of visibility is important so that you can take in all the beauty the site has to offer. The best way to enjoy all the site has to offer is with a guided dive. You can't beat local knowledge when trying to get all you can out of a dive.
If you are into underwater photography, then the Arashi airplanes wreck site is for you. There is plenty to photograph, whether it is you holding onto a propeller or the stunning sea life surrounding you, the shot is destined to be good. It is abundantly clear why Aruba vacationers love this dive spot with all it has to offer. With everything Aruba offers, diving nirvana is definitely one of the biggest attractions. When planning your Aruba holiday be sure to include a dive on the Arashi airplanes site. You won't be disappointed and will remember it always.