El Gaucho - The Local Favorite for Aruba Dining Experiences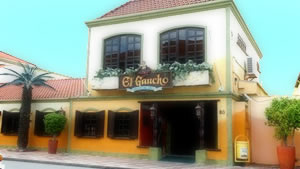 El Gaucho has been in business since 1977, and is known to be the first Argentine restaurant to open in Aruba. The restaurant is situated in an old townhouse on Wilhelminastreet, and provides all the ambiance and charm that you could imagine. Taking a vacation to Aruba is a very exotic experience, and you certainly don't want to ruin that experience by visiting chain restaurants and eating food that you could get just as easily at home. Visit restaurants like El Gaucho to get a taste for the exotic flair of Aruba and the wonderful variety of dishes that the Argentine restaurant prides itself on.
El Gaucho has a menu that includes a little bit of everything, including steaks, veal chops, and more traditional foods all made Argentinean style for an extra special touch. The staff at El Gaucho is friendly, professional, and will cater to your every need. The ambiance is unmatched, and includes strolling guitarists, friendly wait staff, and a homey environment that anyone can enjoy. Looking for local seafood? El Gaucho has a great selection of Aruban flavored fresh seafood to choose from for all of your desires.
You are certain to find something that you'll enjoy at El Gaucho, no matter when you decide to visit. The restaurant also boasts a variety of exclusive Argentine wines, which you won't find elsewhere in Aruba. The fine dining experience is not to be left for those without children, though. Recently, a play room has been added so that parents can dine in peace while children play arcade games, watch videos, draw, build with blocks, and have fun in a place where you wouldn't expect them to.
As if all this isn't enough, El Gaucho has recently been renovated and expanded to include a beautiful new dining room that has the rustic charm that embraces the legend of the Argentine cowboy. For families, couples, and anyone who wants an authentic meal in Aruba, this place is a great choice for you. Once you've enjoyed your dinner, you can even head across the street to their exclusive Garufa, a cocktail lounge that is popular for the best beverage selection and cigar smoking treasures that it holds. What more could you ask for in an authentic Aruba restaurant? With everything that El Gaucho has to offer, you're sure to find exactly what you want at this great Aruban restaurant.