Le Dome Restaurant - Fine Dining Aruba-Style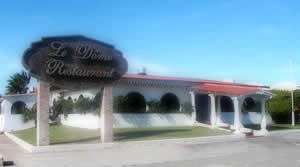 Aruba offers a lot of classic dining, fine dining, and many other choices when it comes to the cuisine that you will enjoy while you're on vacation. No matter what you're looking for, it seems that someone, somewhere offers it to you exactly the way that you want it. Le Dome, opened in 1997, is no different. They offer notoriety as Aruba's top restaurant and feature all kinds of great cuisine and a wonderful environment to enjoy it in. The thing that sets Le Dome apart from the rest is their attention to detail and quality in everything that they serve.
Le Dome believes that everything has a season. Therefore, they will only serve the finest meats, fruits, and other items that are in season and at their peak. Not only does this make their food better, but it also helps keep local growers in business, allowing them to thrive. If you want to eat food that has been flown halfway around the world, don't come to Le Dome, because you will only find the freshest, most local flavors that happen to be in season. The menu fluctuates often because of this demand of quality products, making it well worth visiting at any time of year.
One of the features of Le Dome is their Champagne Sunday brunch. The a la carte menu provides a carefully selected list of dishes that you can choose from any way that you like. You can also eat as much as you want, and enjoy your meal with chilled champagne just the way that it should be enjoyed. People love this restaurant because of their focus on quality and freshness, and the same quality focus is placed on their fine wines and champagne.
With more than 300,000 visitors since they first opened 12 years ago, Le Dome is quickly becoming well known in Aruba and even throughout the Caribbean as a force to be reckoned with. The attention to detail, the friendly and professional ambiance, and the great selection of fresh foods and the best wines make this place a great destination for anyone who wants to enjoy fine dining in Aruba. If you don't believe that it's this good, you should ask the other 300,000+ people that have dined here time and time again. While other restaurants come and go, Le Dome is certainly here to stay. Make sure that you reserve your table far in advance, because this place always has a full house.