Visit Marandi for the most romantic dinner in Aruba
---
---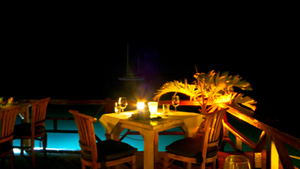 Visitors to Marandi take back an unforgettable dining experience with them. Located at Bucuti, Aruba, this restaurant boasts of a unique ambience that is nowhere to be found in the island and is a must-visit for all who want to experience a romantic dining experience that is simply out of the world.
Ambience
They call Marandi the best 'romantic sunset restaurant' in Aruba not for nothing. The breathtaking ambience includes a massive palapa hut which is bound to leave you awestruck. You can dine under its hood for a unique experience or if you want to be more close to nature, you can also enjoy your fare on a pier located above the Laguna Bay waters. Enjoy the marvelous sunset or gaze at the twinkling stars while you dig into Marandi's delectable fare.
No matter wherever you are seated in the exquisite setting of Marandi, you just cannot miss the splendid view of the waters of the Laguna Bay – this is one of the charms that Marandi metes out to every single diner visiting its restaurant. Marandi has been born out of an inspiration for enchanting natural beauty and every corner of the restaurant lives by that – the color, the décor and the setting flashes its intimacy to nature and the ocean.
Food fare
The menu in Marandi consists of an assimilation of international cuisine, sprinkled liberally with a Caribbean flavor. Dig into the tender, juicy and sinfully delicious fare that the restaurant offers and you are guaranteed to come back for more. Step into the 'open' kitchen to partake a view of the preparation of the dishes by expert chefs. Friendly attentive staff and special delectable and scrumptious dishes – Marandi has the best of these to make your dining experience unforgettable and unique.
Marandi is passionate about food and romance and no traveler to Aruba must miss out on this.