Why Should You Go For An All Inclusive At Hotel Riu Palace Aruba?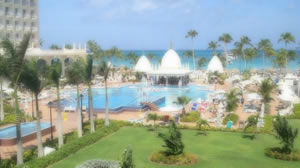 If you are going to splurge on vacation, you might as well do it the right way. There is nothing quite like an all inclusive at Hotel Riu Palace Aruba. It gives you the opportunity to live like a king or queen during your vacation with spectacular food and amazing drinks.
When going for an all inclusive hotel package, you are going to have a plethora of options to choose from for meals and snacks. For breakfast you can take advantage of a full American breakfast buffet. Everything from eggs and bacon to waffles and hashbrowns; you will get it all at Hotel Riu Palace Aruba.
In addition to an all American breakfast buffet, you can settle for a continental breakfast or snacks if you are not quite as hungry. There are fruits, juices and Cava for you to enjoy.
Lunch does not disappoint either with hot and cold buffets. There is also on the spot cooking stations so you can get food as fresh as possible. There are pastas, salads, pizzas, and a wide array of desserts for you to salivate over.
The last meal of the day, dinner, certainly lives up to the hype with an all inclusive option. There are buffets and on the spot cooking stations like lunch for you to enjoy. You will also find theme buffets twice a week for special evenings with spectacular foods. There are several dining options you can make reservations at as well from fusion to Japanese to Italian.
As for the drink specials, you can take advantage of an unlimited amount of local and imported beverages 24 hours a day at Hotel Riu Palace Aruba. There is drink service at the pool and a mini-bar that is regularly restocked. Room service is ready to take your call 24 hours a day.
Of course you do not want to go on vacation at Aruba and just eat and drink 24 hours a day. There are numerous sports and activities to enjoy including a full gym, an aquagym, beach volleyball, a sauna and Jacuzzi.
Lastly, you will find numerous types of entertainment with an all inclusive vacation at Hotel Riu Palace Aruba. There is daytime entertainment for adults several times a week, a complimentary entrance to the casinos, and live music.
Going on vacation is all about enjoying yourself and relaxing. There is no better way to do this than with an all inclusive paid vacation. This allows you to eat whatever you want, drink anything that catches your eye, and enjoy the numerous activities and games Hotel Riu Palace Aruba has to offer.