Oranjestad
Aruba's Capital
---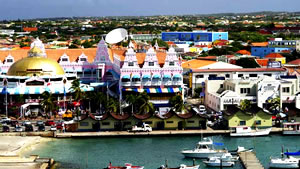 Oranjestad (Orangetown) is the capital and most important town of Aruba. Oranjestad, with approximately 33.000 residents (as of 2008), is located on Aruba's southern coast near the western end of the island.
Oranjestad, originally built around Fort Zoutman, is named after the first king of the Netherlands, Willem van Oranje Nassau. Nowadays Fort Zoutman is one of Oranjestads's attractions.
Shopping in Oranjestad
"Main Street", officialy 'Caya G. F. Betico Croes', is Oranjestad's main shopping street. However, in the past few years shops have increasingly moved to buildings and malls located at the "Lloyd G. Smith Boulevard", the main thoroughfare in Oranjestad. This is partly because the boulevard is closer to Oranjestad's harbour area and cruise ship terminal.
Duty-free stores, shopping malls, boutiques, souvenir shops and craft shops line the main streets of Lloyd G. Smith Boulevard, Havenstraat and "Main Street" (Caya G. F. Betico Croes). Most stores in Oranjestad's shopping center are full of imported goods such as gold jewellery, fragrances, linens, liquors, cameras, watches, name-brand fashions and Dutch porcelain figurines. Craft stalls selling typical souvenirs and wooden handicrafts can be found at the Wharfside Market on Lloyd G. Smith Boulevard (located directly at the small harbour).
Dutch colonial architecture
The streets in Oranjestad's shopping center are lined with modern imitations of Dutch colonial houses with the characteristic pastel colors adorned with ornate gabled roofs. Most of these buildings have been renovated into shopping complexes and restaurants. However, Dutch colonial architecture in Oranjestad is less visible than on neighbouring island Curaçao.
Nightlife and Entertainment
Nightlife in Aruba's capital is just as energetic as Aruba's beaches are laid back. You will find numerous of casinos, cinemas, bars, clubs, live shows, music halls and salsa cafés in Oranjestad. Most of them are directly located at or near Lloyd G. Smith Boulevard.