Golfing – Try the Pro Course or a Smaller One with the Family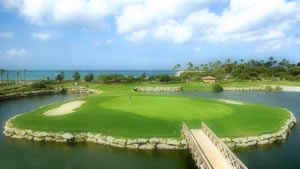 One of the best things to do on an island vacation is golfing. You will be amazed at the sights you see from the course. This is true in Aruba as well. Although there only is one regulation golf course on the island, you are sure to enjoy yourself. The great thing about it is that it actually is used in the senior PGA tour, so you will have the option of playing where the professionals play. The course is called Tierra Del Sol and is located on the northwestern tip of the island. Even if you golf more for fun than anything else, you will enjoy this course.
For those of you who get stressed during your usual golf game, that all will melt away because of the scenery. It is hard to get frustrated while you are surrounded by turquoise waters and white sandy beaches. That actually is the backdrop for your golfing experience in Aruba. It provides some of the most relaxing golf games you ever will experience. The course is a 71-par course with its 18 holes. The great thing about the course is that it incorporates Aruban wildlife and greenery into its design. You will be able to see the parakeets and lizards while practicing your chip shot.
An interesting feature of the course is its GPS yardage system it has. This is great for golfing because it will help you figure out how far away from the hole you are. This will be a golfing experience like no other. If you are looking for something less expensive, then there are other courses on the island. They are only 9 holes though. Courses like this are offered from a few of the resorts, but not all of them have courses. You have to check, though, because some of the resorts, such as the Links at Divi Aruba give priority to guests.
There also are a few miniature golf courses that will provide fun for the whole family. Because there is variety when it comes to golf in Aruba, you will be able to find the perfect course for your skill level and wallet. Regardless of where you golf, you will not forget the experience of golfing on the beach with the ocean in the background. It is a great way to spend a day or two of your vacation. You can enjoy the outdoors without lounging on the beach.