Deep Sea Fishing – Reel in Your Dinner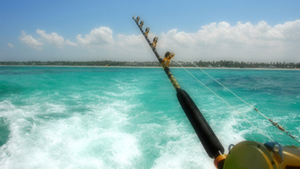 A great way to spend a day in Aruba is with deep sea fishing. It is an experience like no other. You will be amazed at the aquatic life you can catch off the coast of Aruba. If you want to give this a try, it is best to book in advance because it has become an extremely popular activity on the island. The great thing about this activity is that you do not even need fishing experience to catch some fish. Your captain and first mate will teach you all you need to know while you are pulling in marlin, tuna or shark.
Because deep sea fishing has become so popular, many restaurants even will cook your catch for your dinner at the end of the day. It is sure to be the best meal you ever had. How many people have the opportunity to eat the fish they catch? Among the popular catches are sailfish, marlin, wahoo, shark, barracuda, kingfish and tuna. Regardless of what you reel in, this is an experience that will bring back great memories years from now. Even the boat ride alone with be a great way to spend your vacation. It will be nice to see Aruba from the sea.
Since you should book your deep sea fishing trip in advance, you will have the option of going out for half a day or for a full day. Of course the prices will vary depending on how long you go out. If you are not sure whether you will enjoy an entire day at sea, you should opt for the half day trip because you still will get the experience and maybe even catch a fish. The full day trips are great for people who know they will want to fish all day. You have to consider this when booking because you will be on the boat all day.
Along with the thrill of reeling in an oceanic fish, deep sea fishing will give you the chance to see the island from the water. You will have a unique view of Aruba that you never would have had from land. It will be interesting to see the beach from the other end. Fishing the waters of Aruba is a great way to mix up the monotony of your vacation. Although you will enjoy lounging on the beaches all day, you will love getting out on the waters.