Aruba High Rise Hotels
High Rise Hotels Provide the Nightlife and Glamour for the Enlightened Visitor
---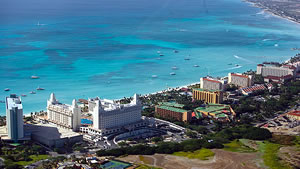 For those that want a vacation with exciting nightlife built in, the high rise hotels of Aruba are the best spot. Palm Beach is the center of the high life fun. It is separated from Eagle Beach and its low rise hotels by a limestone outcropping. But the differences are night and day. Most of the resorts in the high rise area boast four or five stars and rise up to 18 floors. The area is dotted with night clubs and casinos with an active night life. Shopping and fine restaurants are great options to round out the day. For those that want to party the night away, Palm Beach is the place to be.
The options for accommodations in the high rise hotels district run the gamut. Many name brand hotels line the beaches along side private resorts. Some provide an all inclusive experience. Others provide nightly accommodations in a traditional hotel room. Many units are available with separate living and bedroom areas. Most of the resorts have multiple dining options within their own walls. But restaurants of many kinds also dot the area if you want a different dining experience. You have the option of staying within your own hotel's walls or spending your days exploring your surroundings.
For entertainment, a visitor doesn't need to go far. For those that want to gamble, many of the resorts have in-house gambling options and casinos abound in the Palm Beach area. Beach barbecues and cocktail parties are available most nights of the week. Resorts often have other entertainment options for their guests. International entertainers, local bands, fashion shows, and limbo dances are just a partial list. The nightlife never ends if you don't want it to. But for the quieter options, there are drinks on the patio, a stroll on the beach, or a dinner in a quiet intimate restaurant. A quiet dinner barefoot on the beach would be exquisite way to end an evening.
Known for its glamorous high rise hotels, Palm Beach is also a great beach for swimmers and snorkelers. This two mile strip of sand and water populated with water sports concessions, piers, beach bars, restaurants and shops. You can experience the fun of exploring the ocean. And since it's on the west side of Aruba, you can enjoy the beauty of the brilliant orange sunset over the waters of the Caribbean. Now that is the way to end the day on your perfect Aruban vacation.