Aruba Airport
Reina Beatrix International Airport | AUA
---
Experience Aruba Airport's Comfort and Luxury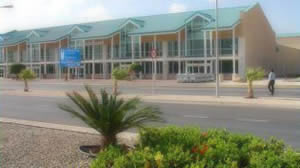 Discover the modern comforts and luxuries awaiting you at Aruba's Reina Beatrix Airport. With a variety of stores and dining options, passengers can enjoy their layover while exploring diverse cuisines and entertainment options. Relax with a cocktail at one of the airport bars, or browse the latest high-end brands and luxury items for a special treat or a way to pass the time.
Exclusive Benefits for US Travelers
Reina Beatrix Airport offers a unique perk for US-bound passengers: its own US terminal with customs and immigration counters. This means that flights from Aruba to the United States are treated as domestic arrivals, allowing travelers to skip lengthy immigration lines and customs processes. Simply collect your luggage and walk out of the airport upon arrival in the US.
Choose from Top Airlines and Flights
Aruba's Reina Beatrix Airport serves all major airlines and can accommodate commercial aircraft as large as the Boeing 747. Numerous charter services also connect Aruba with destinations worldwide, and the airport is well-prepared to manage the traffic.
Pet-Friendly Travel at Aruba Airport
Reina Beatrix Airport warmly welcomes pets as travel companions. Just make sure to bring a Certificate of Health issued within 30 days of entry into Aruba.
In summary, Aruba's Reina Beatrix Airport offers a convenient, efficient, and enjoyable travel experience with top-notch amenities and services. Come and see for yourself!
Aruba Airport Address:
Aruba Airport Authority N.V.
Aeropuerto Internacional Reina Beatrix
Oranjestad
Aruba, Dutch Caribbean
Tel: (297)5242424
Aruba Airport Postal Address:

Aruba Airport Authority N.V.
Aeropuerto Internacional Reina Beatrix
Wayaca z/n
Oranjestad
Aruba, Dutch Caribbean
Fax: (297)5834229