Jane Sea Wreck – A Great Dive Vacation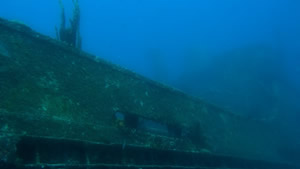 For your next vacation you might consider going on a dive at the Jane Sea Wreck location in Aruba. Aruba is one of the most sought after vacation spots in the entire world and for good reason too. The beaches of Aruba are well known as some of the most pristine on the globe. And, the clear gorgeous waters are perfect for scuba diving. Very few places in the world offer the kind of diving experience you can find in Aruba whether you are an expert or just going out for your first time.
The Jane Sea Wreck dive site is a 250-foot long tanker that is standing perfectly upright on the ocean floor. All kinds of coral from brain coral to star coral to mountain corals abound. The bow of the wreck is located in 65 feet of water while the stern is in 94 feet. This gives you a nice languishing dive to enjoy all the sea life in and around the hull of the wreck. This is the perfect dive for experienced divers looking to take in some really cool sea life during their Aruba stay.
There are some string currents to watch for at the Jane Sea Wreck. But, those same currents are responsible for bringing some of the most fantastic ocean life through the cargo holds of the wrecked ship. In and around the wreck you can expect to see mantas, barracudas and, if you are lucky, even some turtles too. This is one of the favorite dive spots around the island and is enjoyed by locals as well as tourists. The Jane Sea Wreck is a destination point for experienced divers from all over the world. But, even if you are not an experienced diver you can enjoy this amazing wreck.
For those who are less experienced, there are tour dives on the Jane Sea Wreck you can take part in. Your tour instructor will guide you safely through the wreck and point out all the features of this amazing dive site. This will certainly add a unique option to your Aruba vacation itinerary. Sea wrecks are an extremely alluring underwater oddity and to be able to see them up close and personal is an experience no one will ever be able to forget. So, if you are an adventurous vacationer and want to see something truly unique, visit the Jane Sea Wreck site.