The Westin Resort Aruba: Offering A Little Something For Everyone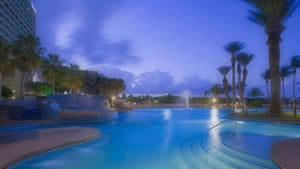 Whether it is sailing, scuba diving, golfing or deep sea fishing, The Westin Resort Aruba has a little something to offer for everyone. No matter what age or occasion you are celebrating there are a plethora of activities for you to enjoy at this stunning resort. You can go crazy day and night or rejuvenate in the new spa. Regardless, you are sure to have a good time.
As you can probably imagine, The Westin Resort Aruba has a number of water activities for you and the family to enjoy. Scuba diving allows you to discover all of the exotic mysteries that are beneath the crystal-clear waters of Aruba. There are guided tours you can take led by trained experts. With these tours you will be using modern equipment to take you on an underwater journey.
Sailing and windsurfing is another popular water activity for people of all ages. Both of these activities allow you to experience the thrill of the wind in your hair while venting out. For sailing you can charter a boat or rent one as well. While sailing, you can take advantage of snorkeling adventures, sunset sails or moonlight cruises. Windsurfing is another option with warm and clear waters and the perfect wind.
To stay active in the water there are several water sports for you to enjoy as well. You can make it a memorable day in the clear and calm waters doing a wide array of sports including jet skis, surfboards and kayaks.
After wasting away all of your energy you can then kick back and enjoy the numerous spa facilities and services. This can be a romantic getaway for couples or ideal for individuals to relax with. There are massages, facials, scrubs, wraps, and a full salon to get your hair taken care of. Nourish yourself with the full treatment from head to toe.
After pampering yourself it is time to get out on the town and take pleasure in the crazy nightlife of The Westin Resort Aruba casino. The design theme of this casino was inspired by the film Casablanca and is filled with non-stop excitement. There is a wide variety of live bands and big-screen plasma TVs to view while taking advantage of the numerous slot machines, BlackJack tables, poker, craps, roulette, and a Casablanca casino bar.
When planning a vacation you want to make sure there is a little bit of something for everyone. This is precisely what you will find at The Westin Resort Aruba. From the stunning beaches to the relaxing spa to the non-stop excitement at the casino, you are bound to find something to enjoy at this spectacular resort.