Scuba Diving on Aruba – Best Way to Discover the Island's Secrets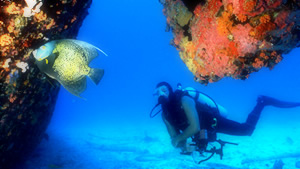 Scuba diving on Aruba is one of the most memorable experiences that you will have when you go on vacation in this Caribbean island. As the island is surrounded by colossal coral formations, there is an awe-inspiring diversity of underwater life that will surely make you fall in love with the place. Imagine swimming with a large assortment of fish or seeing how stingrays glide in the blue pristine waters. If you are in luck, you can even see a group of marching lobsters. But it must be mentioned that all the fantastic activity does not only happen in the deep, the corals in the shallow lying areas of the island are also home to small crabs, flashy fishes, and turtles.
Also, scuba diving on Aruba will give you a chance to view marvelous shipwrecks that are scattered all over the island's underwater scenery. One of the most popular is the German freighter Antilla, a shipwreck that extends to about 400 feet. It is regarded as the largest wreck in the entire Caribbean and a favorite among returning tourist divers who always seem to find new things within the ship's remains.
If you want to go scuba diving on Aruba and you did not bring any equipment, you do not have to make your life complicated. There are a number of diving shops that rent out various diving gear. And if ever you have yet to learn scuba diving for the first time, there are local diving schools that offer beginner courses. As a matter of fact, you can take a one hour diving lesson and be well on your way to experience famous Aruba diving spots.
For first time tourists who want to go scuba diving on Aruba, the best spot is the southern coast as it is the side that is turned away from the current, thus the water in that area is relatively calm. Off this side of the island, the popular diving spot is in Mangel Alto. But if you want to have a rough and more challenging scuba diving, you can go to the northern coast. The eastern side of the island, meanwhile, offers the perfect area to go reef diving. If you are really adventurous, you can also try night scuba diving on Aruba. Many tourists who have done it claim that coral formations appear entirely different when viewed at night. You do not have to worry about the darkness because your diving guide will give you waterproof torches that will brighten up the underwater surroundings.