Sea-Breeze Apartments – A Small Jewel in Aruba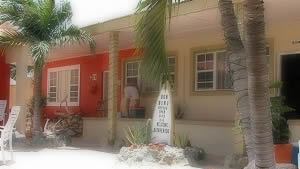 Aruba is a wonderful island located in Dutch Antilles. However, in order to fully enjoy the sun, the sea, and the sand, you should make sure that you have a superb but reasonably priced accommodation. If you are interested in a resort by the sea, you should try Sea-Breeze Apartments. As the name implies, this quaint vacation rental will surely let you enjoy the warm breeze coming from Mangel Halto Beach in Pos Chiquitos. Since this apartment complex is nestled in a small beach, you surely have the privacy and serene atmosphere that will allow you to have complete relaxation during your vacation.
The Sea-Breeze Apartments is composed of 10 apartments that are cozy and spacious. If you are with kids, you might want to hire a one-bedroom apartment, which is equipped with dining tables, twin beds in the bedroom, twin beds in the living room, toilet and bath, air conditioning system, a hammock, and cable television. A family of four can comfortably stay in this 50-square meter space. If you are alone or you are spending a romantic time with your partner, you might want to consider getting a studio, which is about 30 square meters in size. The studios, which are located in the tropical garden by the pool, are fitted with a toilet and bath and a spacious terrace (which can incidentally accommodate three people). All of the apartment units in this resort have Internet connection so you can still work even when you are having a vacation.
Although Mangel Halto is a fairly small beach, this is actually the most ideal location for snorkeling and scuba diving in the whole of Aruba. The good thing about staying in Sea-Breeze Apartments if you are planning to go diving or snorkeling is that the resort can lend you snorkeling equipment for free. What's more, the water in this part of the Caribbean is so clear that you really would not need to go deep into the water just to find fantastic reef formations and exotic marine animals.
If you love to party and want to visit beaches that are filled with tourists, then you really do not have to worry because Sea-Breeze Apartments is just a few miles away from the famous beaches in the island, including Palm Beach and Baby Beach. For those who want to play casinos in large hotels or want to go shopping and bar hopping downtown, it is important to note that the resort is also ten to twenty minutes away by car.