Palm Beach – No Limit to the Fun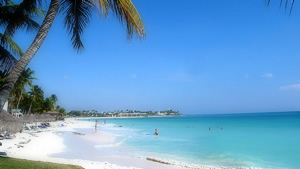 When people go on vacation, one of the things they want expect from their beach is a crowd. Sometimes this gets to be stressful but other times, when you are lucky and have an amazing beach, it can make the entire experience better. This is the case with Palm Beach in Aruba. It is probably the most popular beach on the island because of its location, but people never seem to mind the crowds like at other beaches. This beach is located near Oranjestad, which is the country's capital. This is the heart and soul of Aruba and where the majority of the hotels and resorts are located.
For anyone who has ever been to Aruba before, Palm Beach was most likely where you stayed and relaxed during your vacation. The waters of this beach are so amazingly turquoise you won't even believe that they are real for a minute. One reason this beach is so popular is because of all you can do here. You can do the basic beach things such as tanning and walking from one end of the beach to the other. You also can do all the beach sports such as fishing, sailing and snorkeling. This beach has it all.
Another reason that Palm Beach is a tourist favorite is because they do not have to venture out. Although exploring is one of the best things for some people to do, it is not for everyone. They would prefer to have everything they need in walking distance while vacationing. If this is your idea of a great vacation, you need not look further than this beach spot. All of your restaurants and shops will be right by your hotel, so you can do everything you want in one area. For people who want to relax, this is the ultimate relaxing spot for beach-going vacationers.
Because there is so much to do at Palm Beach, it really expands the types of people who enjoy this beach. It is great for families because everything is right on hand with the resorts and shops. It also is a great spot for younger couples because of all the water sports that are available. It can be such an adventurous beach for those who want to take advantage of it. Anyone planning a trip to Aruba in the future needs to check out the great waters this beach has to offer.