Sasaki Apartments – Top Rank Service at Reasonable Rates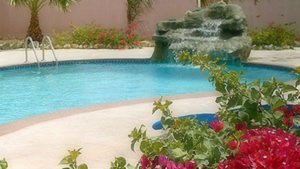 Sasaki Apartments is one of the popular accommodation providers in the island of Aruba. It has a total of 24 studio apartments. Some of its facilities include a spacious barbeque area, a kiddy pool, and a full-size swimming pool. If you are a health buff, the best thing about this resort is its non-smoking policy being implemented inside all the rooms. Smokers can only light their sticks in the balcony, pool area, and other places other than the rooms. Accommodation includes air-conditioned rooms, cable television, telephone, and a safety deposit box. You will also find a kitchen equipped with a stove, microwave oven, cooking and dining utensils, and a coffeemaker. There is also warm water in the toilet and bathroom. If you brought your whole family for a vacation, you can request for adjoining rooms so that you can stay as if you are all in one big room.
Guests who had stayed in Sasaki Apartments only have high praises for its service staff. Each member of the resort staff makes sure that visitors are well-attended to. Guests can ask them for anything, from extra sheets and towels to information about the best shopping and dining places in the island As a matter of fact, such a hospitable staff is one of the areas that the resort is very proud of. Resort services also include housekeeping and laundry that is offered daily except on Sundays. Other conveniences include Wi-Fi Internet access, car rental arrangements, and added security guards in the evening.
Sasaki Apartments is located very close to Eagle Beach. From the resort, an 8-minute walk is all it takes for you to take a dip in the Caribbean Sea. A few minutes' drive from Sasaki will bring you to the central district where restaurants, casinos, and other entertainment establishments in the island are located. In front of the resort, you will also find the Adventure Golf Course, a mini-golf teeing ground and fairway where you can practice your swings right in the middle of a tropical island.
Sasaki Apartments accommodation rates start an average of $90 per night for 2-person occupancy during the lean season. This can go up to around $110 during the peak months. Bringing along a third companion can cost you an additional $20 during the low season and $30 in the high season. For a weekly arrangement, rates start at $85 to $105 per night, depending on the time of the year.