Refinery – How Oil Changed Aruba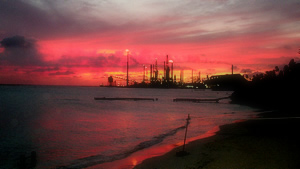 The first oil refinery in Aruba was built in 1928 by Royal Dutch Shell. The facility was built just to the west of the capital city Oranjestad and was commonly called the Eagle. Immediately following this, another was built by Lago Oil and Transport Company in an area now known as San Nicolas on the east end of Aruba.
To accommodate a facility of this magnitude, much expansion had to be made to both San Nicholas and the harbor. In the first few years, roughly $22 million was spent on expansion. The expansion continued steadily and the area surrounding the refinery came to be called the Lago Colony. The colony included housing for the workers, a state-of-the-art hospital, a police force, a Protestant church and an American high school. Several miniature cities were built outside of the colony to house local workers. These neighborhoods were separated by ranks and the lowest of which included public housing and a savings arrangement that allowed employees to work towards owning their homes. Largely due to the immigration of workers, San Nicholas became a melting pot of cultures. Within the refinery Arubans were trained to become foreman and rose to positions of responsibility.
The expansion also allowed production of the refinery to grow at a rapid pace. In 1945 the one billionth barrel of crude oil was refined and only seven years later the facility produced the second billionth barrel. Until the 1970's the San Nicholas facility was one of the largest in the world. It employed more than 7,000 people from more than 50 countries. The Lago facility served a vital role in supplying aviation gas for the Allied Forces during World War II and Aruba was nearly destroyed by a German torpedo because of that role. Lago was later taken over by the Standard Oil Company of New Jersey, now known as Exxon. Being pressured by global oversupply, Exxon closed the facility in 1986. The facility remained empty until after talk of tearing it down, it was reopened in 1991 by the El Paso Corporation of Houston, Texas. In 2004 Lago changed hands again when it was purchased by Valero Energy Corp.
The arrival of the Lago Oil and Transport Company has had an immeasurable impact on Aruba. Thanks largely to the refinery, the standard of living increased quickly and became one of the highest in the Caribbean. The facility now processes approximately 275,000 barrels per day.