Madame Janette - 2008 Wine Spectator's Award of Excellence Recipient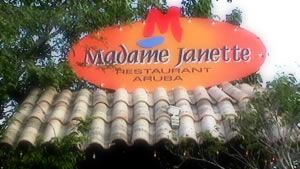 When you vacation in a tropical wonderland like Aruba, part of the experience is enjoying all of the local cuisine that you can find. With so many different options to choose from, it can prove to be a challenge to limit your choices when you are planning your vacation. However, there is one place that you simply cannot afford to miss. With its award-winning wine and culinary skills, along with European-trained chefs, you'll find everything that you hoped for in a local favorite at Madame Janette. For the best in fine dining with a relaxed and casual environment, this is the place to go in Aruba.
Madame Janette was established in 1999 as a dream of Ramon Helgers and Karsten Gesing. Karsten is trained in old-style traditions and is a Master European Chef. Along with his international staff, he creates many creative and tasteful dishes that offer a glimpse of worldwide cuisine and culture in a setting that is everything that you could want. Ramon is responsible for handling all the exotic fruits and local vegetables, and you won't just find them in the restaurant. Those can also be found in the local markets, as well.
Reservations are accepted at Madame Janette at all times. The restaurant is open daily, and offers some of the best food that you'll likely find on the island. You will find a variety of steaks, grilled meats, salmon, local fish, fresh pasta, and some of the best appetizers on the island at this great restaurant. The restaurant was created with a simple goal in mind: to feed people who like to eat good food. Next time you're in Aruba, stop by Madame Janette's and see what you can find that interests you. You can guarantee that no matter what your tastes, you won't be disappointed. Just make sure that you make a reservation if you need to, so that you don't miss out on one of the best things Aruba has to offer.