ArubaKitten
To the Rescue!
---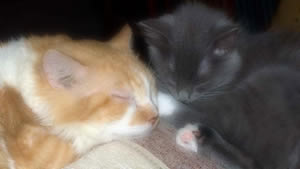 On the wonderful island paradise of Aruba it's not just the tourists who get first class treatment. Thanks to organizations like ArubaKitten.org the smallest of creatures know what it's like to be wanted and loved and we are proud to help share their story. So as you pack your bags for the trip of a lifetime here is a little something to add to all the great things you have already learned about Aruba.
ArubaKitten.org is dedicated to helping the furry little friends of the island, cats and kittens and they do this by helping them find homes back in the US. How could vacationers adopt a kitten or cat while they are on vacation and take it back home to the USA? This catches many people by surprise but it is actually done every day. Here is how it works and it is much easier than you think. The animal just needs a certificate of health (which is great for you too, to know they are healthy and happy) and their rabies shot. It's that simple and since Aruba is a rabies free island there is no waiting period after they get their shots. That also means that if the kitten is too young for the shot, the certificate will state that fact and they will be ready to go.
So how do you get your new family friend back home? Almost all of the airlines welcome your pets and some will even allow them to travel home in the cabin right with you. Your new pet will need a ticket and the cost is usually between $75 and $125. They will then be allowed to ride under the seat in the carrier. They will need a harness and leash as well so that when you go through customs in Aruba heading back home they can easily remove your cat or kitten and give it a quick look. And thanks to the many people who have donated to ArubaKitten.org they even have cat carriers they can give to you.
When you adopt an animal from ArubaKitten.org you will be getting a very special "souvenir" to take home, one that has been cared for with a great amount of love by their volunteers and one that will bring years and years of joy to your family. In-Aruba.Com is proud to give you another reason to remember this great island, filled with people who always seem to smile.
For information go to: ArubaKitten
Donations goes directly to ArubaKitten.org. They can use it very well.
Behalf ArubaKitten, Thank you