Weddings on Aruba – Exchanging Vows in Paradise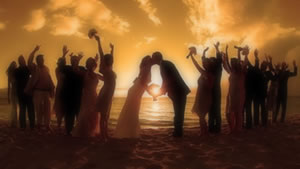 Weddings on Aruba are among the top reasons why the island is the most popular destination in the Caribbean. Having your wedding in the island can be a dream come true for both you and your spouse-to-be. Those who got married on the island say that the entire experience is like being in Paradise. As a tropical location, Aruba has many fabulous spots that stand on a backdrop of fine white sands and sparkling turquoise sea.
Weddings on Aruba attract couples from all over the world who want to finally exchange their vows. On top of the exquisite and tranquil surroundings, friendly locals will make sure that everything is in order and that you have nothing to worry about when your big day comes. Arubans will even go the extra mile to ensure that your family and guests will enjoy their stay before, during, and after your wedding ceremony. As for your guests, they do not have to bring in gifts when coming to the island. Many shops in Aruba offer bridal gift registry services that will help your friends decide on what gifts to buy for you. Also, the climate in the region is always pleasant and sunny so you do not have to worry about rain ruining your celebration.
Weddings on Aruba can be arranged to meet the requirements of the couples. You can have the ceremony prepared for just the two of you or you can have a grand wedding with a large group of guests. Surely, hotels and wedding planers in the island will have a package that will suit your expectations and, most importantly, your budget. Rest assured, having a wedding in Aruba will give you the best value for your money - couples who got married in the island always say so. As a matter of fact, weddings in this popular Caribbean destination can cost cheaper than anywhere in the region.
Perhaps the best part of having weddings on Aruba is the fact that the whole occasion can be rolled into one big vacation for your guests and a romantic honeymoon for the newlyweds. Besides, after going through all the stress before your wedding day, there is no other way to reward yourself and start a family better than experiencing the magic of the island for a few weeks. Newly married couples who are having their honeymoons after their weddings on Aruba are traditionally given a bottle of champagne and gifts from the resort hotels where they stay.