An Overview Of Holiday Inn Sunspree Aruba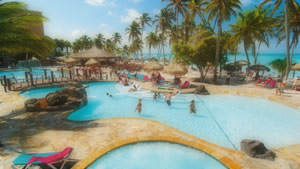 With swaying palms, pleasant trade winds and gorgeous deep blue water, there is nothing more a person could ask for in a dream vacation. At the Holiday Inn Resort Aruba, you will find this resort has gone to great lengths to make this an unforgettable vacation for you. Regardless of your reasoning for stopping in, you will find refreshing accommodations and a wide array of amenities and activities.
To help you make the most of your trip at Holiday Inn Sunspree Aruba, you are going to find a plethora of different amenities and activities. There are water sports, sightseeing, shopping and relaxing on the beach just waiting for you to experience. Just steps from the resort you will have access to a health center, spa facility, shops, and activities for children.
You want to enjoy the various entertainments and recreation the resort has to offer as well. There is a lounge by a spectacular zero-entry pool or you can step into one of the two Jacuzzis. If you are more into recreational sports, you can step onto several different courts including tennis, volleyball and basketball.
Nightlife does not disappoint at the Holiday Inn Sunspree Aruba either. There is live entertainment for you to enjoy while you try your luck at blackjack, poker, roulette and other games of chance in the Excelsior casino.
Of course you have to take a dip in the gorgeous beach that Aruba has to offer. You can choose from snorkeling, parasailing, scuba diving, fishing or simply lounging around on the beach. Make sure you discover Aruba and the wide array of available land and sea tours that are waiting for you to pursue.
One new package you may want to look into at the Holiday Inn Sunspree Aruba is the GoldenSpree. This will give you exclusive privileges by opening the door to a world of excitement and fun. Some of the features include beach power walks, trivia games, Caribbean dance lessons, arts and crafts, cooking with the chef, and exotic cocktail classes.
The last thing to keep an eye on with this resort is KidSpree. This invites kids to enjoy fun-filled hours that include scheduled games and activities like face and t-shirt painting, movies, excursions, board games, sand castle building, and everything else you can think of. There is a private baby-sitting service available if this is something you are looking for.
There is a lot to cover with the Holiday Inn Sunspree Aruba as this is a legitimate resort to look at. This article is a brief overview of some of the things you can find and experience with this resort.