Perle d'Or – Affordable Accommodation That has it All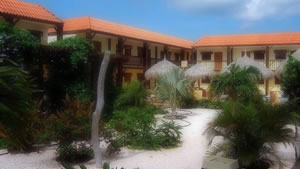 Even in a time of a global financial crisis, you can still travel to foreign countries, which include Aruba. All you need is to be on the lookout for affordable accommodations, one of which is Perle d'Or (which means pearl of gold in English). This hotel is indeed a golden pearl in the sea of hotel accommodations and resorts in the Noord area of Aruba. Popular among students and groups of friends, this small resort is truly what you need to relax and have fun near the sunny beaches of Aruba.
Why do many young tourists prefer Perle d'Or? Apart from the affordable rates and wide range of available rooms, this dainty resort is also strategically located. If you want to go bar hopping and enjoy different restaurant fares, the hotel is just four miles away from Oranjestad, the capital of Aruba. If you are in the mood for basking under the sun, swimming in the clear blue sea, and simply having fun on the beach with your partner, friends or family, you can easily go to Eagle Beach, which is just 2 miles away. Other beaches, such as Palm and Machebo, are also easily accessible. By the way, you really do not need to rent a car just to go to the beaches and other locations from this hotel. There are many cabs and buses that are available anytime.
Perle d'Or has 96 rooms available. Since the accommodation is affordable, you should not really expect very lavish furnishings. But even if the rooms are simple, they are adequately decorated and have all the amenities that you expect in a top quality hotel. Accommodation includes cable television, a small kitchen, air conditioning, refrigerator, toilet and bath, and also a safety box that you can rent. What's more, there are 3 types of rooms available in this hotel. If you are just alone, you can rent a standard studio. For two or more people, the ideal room types are the superior studio, which has 2 beds, or the deluxe studio, which can accommodate two people but only bigger than the superior category.
Other amenities of Perle d'Or include a fully functional gym, a bar lounge, a big swimming pool, wireless Internet connection, an Internet Café, laundry services, picnic area, and also a patio. You can also celebrate your birthday, wedding, or any other special occasion in this hotel because they also offer event catering. Aside from lazing under the sun in the pool area, you can also join dance classes, water sports, live music at the bar, and also various games and exercise activities like volleyball, Tae Bo and soccer.