Arikok - Aruba's Vast National Park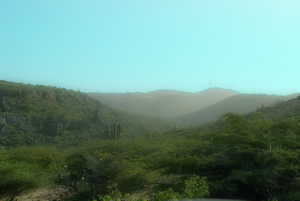 Aruba is a more arid island than the others found in the Caribbean. A tour of Arikok National Park offers a unique experience for guests. Sand dunes and cacti are widespread in the arid interior of the park, while the portions nearest the shore flaunt gorgeous limestone cliffs, Fontein and other caves and exciting hidden coves. The wide ecological range of this site is one found nowhere else in a single park in the world. Historic sites within the park offer exposure to information about Aruba's agricultural and mining history. The environment in the park, being as diverse as it is, supports and wide range of wild animal and plant life. Nature lovers will absolutely soak up the unique scenery and every person that visits will leave with a new sense of appreciation for wildlife and the wonders of nature.
Arikok Park is easy enough to navigate, having well marked paths and educational displays to explain what you may be viewing at the time of reading the sign. If you are a nature lover and you plan to spend a good deal of time in Arikok Park, the purchase of an extensive guidebook would be well worth the investment. The best time to visit the park would be early morning as the birds and other wildlife are most active right after dawn. Also, this allows you more time to spend in the park before nightfall.
This preserve takes up nearly 20% of Aruba, so there is plenty to see! Much of Arikok Park is situated on old plantation sites where beans, corn, peanuts, and coconuts were once grown and harvested. The mid-land portion of the park is vastly different from that of the areas near the coast. Aruba's northern coast is rocky, a place you can see crabs darting here and there, birds gliding in the sky high above you, and even witness the hatching of baby sea turtles. To be able to spend all day in Arikok Park, you will of course need sustenance. The only eating establishment within the park is found in Dos Playa, which is also the best place for sunbathing and a picnic.
Myths and stories found in the guidebook you may choose to purchase enhance your visit to Arikok National Park. For a special, once-in-a-lifetime opportunity to see wildlife not found in any other part of the world, be sure to plan a visit to this vast national park during your trip to Aruba.