Druif Beach – One of the Most Relaxing Aruba Beaches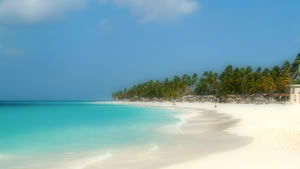 If you are looking for the perfect beach spot that is close to the city but far enough away that you feel secluded, then look no further than Druif Beach in sunny Aruba. It literally is a few miles away from the busy capital city, yet you will not feel as if you are in a crowded spot. It has beautiful calm waters, which makes it the beach of choice for people who enjoy swimming in the clear waters of Aruba. Because the water is so calm, it also makes it a great place to bring families.
What makes Druif Beach so spectacular is that is was known for years as a legend in the Caribbean. Tourists finally have realized how great this spot is for a lazy vacation. The palm trees and greenery make this beach the epitome of a Caribbean vacation. Because locals enjoy this beach so much, why not see what all the fuss is about on your next vacation? You also will have access to a few resorts and hotels on this beach, so you will not have to travel to get here. You will have everything you need right at the perfect vacation spot.
When you get tired of the sun a Druif Beach, you do not even have to go back to your hotel because you simply can just move into the shade that is provided by one of the many palm trees. What more could you ask for on an Aruban vacation? Although it is one of the larger beaches on the island, boasting seven miles of beach, it is not the most popular. This makes it a great choice because you will not feel as if you are battling the crowds of the other popular beaches. One of the great things about this beach is that it is known for providing vacationers with the ultimate Caribbean vacation experience.
Druif Beach is located on the western side of the island, and like the rest of Aruba, has white sands and sparkling waters. Because of how calm the waters are here, you do not have to worry about getting stuck on a windy day. The waters still will be calm unlike other beaches with which you may by familiar. Your vacation will not be plagued with choppy water. This makes it the perfect spot for anyone looking to relax on the beach for their vacation.