Set Amidst The Pristine White Beaches Of Occidental Grand Aruba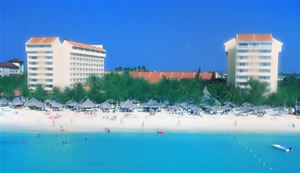 Aruba is a gorgeous place to take a vacation, relax, and enjoy the spectacular white beaches the Occidental Grand Aruba has to offer. At this hotel you will get to experience the true atmosphere of this tropical island in luxury. And with the exclusive all-inclusive resort catering to your every need, it is the perfect spot for any occasion.
The Occidental Grand Aruba offers 398 rooms and suites for you to take advantage or. Whether you are looking for an exotic island getaway, a honeymoon to continue the celebration, or a full-out family vacation, there truly is no better spot than at the Occidental Grand.
There are a total of six restaurants, five bars, a wide array of water sports to enjoy in the sun, plenty of nearby shopping to take home some souvenirs, and on-site casino. There are numerous activities for you to fill the day with while in Aruba. And if you are feeling more like lying by the beach and relaxing, there are stunning beaches with magnificent white sand and gentle waves.
What the Occidental Grand Aruba has really become known for is their amazing all-inclusive specials. You can take in the gentle winds from a private terrace while jumping on one of the many comforting rooms. There are some tremendous accommodations that come with an all-inclusive stay.
Some of the all-inclusive activities this resort has to offer include water polo, sailing, snorkeling, kayaking, tennis courts, and daily activities by the pool. It is the hope of this resort that you will leave Aruba wanting to come back for more. And with the plethora of activities you have to choose from, it will be difficult to fit everything in one vacation.
After enjoying a fun-filled day in the sun you can relax in the evening while sipping on an exotic drink from one of the five bars. Once you have cooled down you can sample gourmet meals from renowned chefs at one of the four distinct restaurants that offer you a wide array of international cuisine. Keep in mind, this is all-inclusive allowing you to go all out.
As soon as you have enjoyed the fine dining experience you can mosey on over to the in-house casino that features all of your favorite games including slot machines, Black Jack, Roulette, Poker and Craps. In addition, there is nightly Bingo that is worth up to $2,000. You can try your luck at the casino while taking in the live Caribbean and international music.
Regardless of your reasoning for taking a trip to Aruba, Occidental Grand Aruba has a little something to offer everyone. From the spectacular beaches to the lively night entertainment, this resort will make it an unforgettable vacation.