Cunucu Arubiano: The Perfect Hideaway in Aruba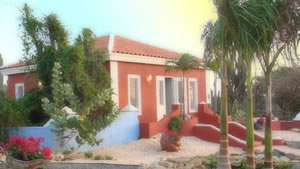 If you are eyeing a luxury boutique resort in Aruba, the one you are looking for is Cunucu Arubiano. This resort, which is composed of only three beautifully decorated free-standing casitas, is a great place to rest, relax and enjoy the beauty and landscape of Aruba at a fairly reasonable price. The elegant casitas are equipped with a spacious bedroom, a bathtub, a great nature view, a swimming pool, and patio where you can stretch your legs under the sun. If you are interested in spending your vacation in a peaceful but luxuriously elegant place, then you really need to consider this boutique resort. However, since there are only three casitas available, you really need to book early.
The Cunucu Arubiano is a great place to stay in because it is a stone's throw away from various recreational spots and other interesting places. First, it is nestled near the Aruba Donkey Sanctuary, which houses over 50 tame donkeys that you can ride and pet. If you are bringing your children, they will surely enjoy their donkey experience. Also, this small resort is just a few meters away from popular tourist destinations in Aruba, which includes Ayo Rock Formations, the Bushiribana Gold Mill Ruins, and also the Andicuri Beach Natural Bridge. Surely, nature and animal lovers would love their stay at this dainty eco-lodge.
Located at Santa Lucia in Aruba, Cunucu Arubiano is merely five minutes from the international airport of this Caribbean retreat, 2 minutes from the beach, and about 10 minutes away from the finest seafood restaurants and bars in this island lying in the Atlantic Ocean. Well, you really do not have to worry about your transportation because this eco-lodge provides an airport shuttle. Besides, if you are just within walking distance from almost anything, you really do not have to worry about hailing a taxicab or riding a bus.
Aside from beautiful and clean bedrooms, you can also expect great customer service in Cunucu Arubiano. From the airport, the staff of this boutique resort will fetch you and bring you to Santa Lucia. The moment you enter the lodge, you will also get complimentary Dutch coffee waiting in your private patio. You may also use mountain bikes, swimming pools and even the donkeys to go around the hills of Santa Lucia. What's more, you can also enjoy complimentary wine that you can select from the wine bodega of this wonderful resort.