Chalet Suisse - Aruba's Culinary Hot Spot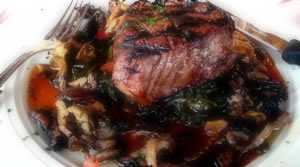 Chalet Suisse offers one of the best fine dining experiences in Aruba. They have been in business since 1988, and pride themselves on fine food, careful preparation, and a well balanced menu. For those who want the best experience in fine dining, professional and congenial service, and the highest quality cooking and preparation, this is definitely worth checking out. The best part of this restaurant is that it can be arranged to accommodate all types of parties and all sizes of groups. The island courtesy can also be found in this great restaurant, giving you a little bit of everything that you wanted in a dining experience on your vacation to Aruba.
The main dining room has plenty of accommodations for single diners, tables for two, and larger tables for families and parties of all kinds. However, the true gem of the Chalet Suisse is the Chalet Room, which is big enough to seat 14-20 people, and has original wood paneling that is over 20 years old, giving your party the warm cozy feeling that you deserve. There is nothing stale or typical about dining at this restaurant, that's for sure. You'll find fancy decorations, cozy settings, and high class dining that can still be family friendly thanks to the great island atmosphere that is common in and around Aruba.
The Tiffany Room also offers some great accommodations, including sea views, luxurious décor, and much more fine dining to anyone who visits it. The room was opened at the Chalet Suisse in 1999, and has gained its own great reputation for private parties including wedding receptions, birthdays, corporate parties, and more. The entire restaurant is extremely accessible, which is a great advantage to anyone who wants to make the best of their vacation. Booster seats are available, as are high chairs and other amenities that you would expect to find at any family oriented and high class restaurant.
All in all, Chalet Suisse is a great choice for anyone looking for something a little different that still offers a touch of home in their dining experience. There is only one thing that you'll need to keep in mind when thinking about booking a reservation at Chalet Suisse—the fact that you actually have to book a reservation. Usually, the place is booked pretty solid, so make sure that you make plans far enough in advance so that you don't miss out on this great opportunity!