Aruba Carnival 2013
---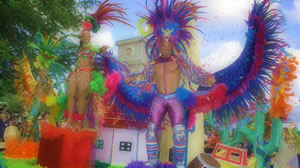 The Carnival celebration in Aruba is one month of events and street parties, commonly referred to as "jump-ups." Aruba Carnival 2013 will be no exception. The highlights of the schedule include music, grand parades, unusual contests, and elaborate celebrations. The Light It Up Event that starts the Aruba Carnival 2013 celebration will be held on January 4th.
Aruban Carnival is a long-standing tradition that began in 1921 with costume parties and lavish balls at the locations of social clubs. Modern Carnival features large public events that occur mainly in the streets. Many tourists plan their vacations to Aruba in order to witness the huge party that is Aruba Carnival.
A variety of events attract the public to the celebrations. From beer festivals to children's parades, there is something for everyone at Carnival. The street parties are alive with music and dancing. Many people enjoy participating in the contests held each year. Three warm up parties are held to promote the three best-selling beers in Aruba.
The Hebbe Hebbe Happening is designed to promote Heineken beer. The Ban Djo Djo Happening and Flip Flop parties celebrate beers produced by the National Brewery of Balashi. The parties are held on different parts of the island and feature live entertainment such as musicians, giveaways of souvenirs, and plenty of beer.
Numerous parades will be held during this festive time. The parades include lots of music, decorated floats, and colorful costumes. Parades are held in San Nicolas and Oranjestad. Several children's parades are scheduled for the 2013 Aruba Carnival. The lighting parades have brilliantly lit costumes and floats. Several lighting parades are held in the evenings during Aruba Carnival 2013. The final parade is called the Grand Evening parade.
A Carnival Queen is elected during the event. The queen promotes the Aruban Carnival and leads parades. The queen may make public appearances to encourage the public support of the traditional celebration. A youth queen and children's queen also are elected.
Unique contests are popular events during the weeks of Carnival. The Calypso and Roadmarch contest lasts for three days. Roadmarch music is rhythmic dancing music played at parades. The calypso music consists of songs about life in Aruba. The winners of the contests are crowned Calypso king or queen, Roadmarch king or queen, and youth king or queen. There is also a contest for Tumba artists.
The end of Aruba Carnival 2013 is the eve of Ash Wednesday. To mark the end of the celebration, "King Momo" is burned as is tradition with many Caribbean carnival celebrations. For the closing ceremony, the King Momo to be burned is usually a doll of a large man wearing flamboyant clothing. The world says goodbye to another Aruban Carnival until next year.