Yemanja Woodfired Grill - A Dining Experience Like No Other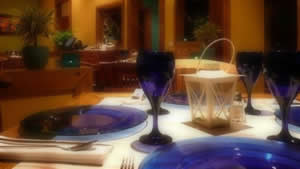 Located in the heart of downtown Oranjestad, Yemanja Woodfired Grill has two separate areas for dining. They offer an air-conditioned non-smoking dining room indoors, as well as a cozy terrace right outsize under the stars, where you can enjoy the island beauty while you enjoy a great meal. The restaurant prides themselves on their attention to detail and their focus on fine dining, as well as the passion for tradition and excellence. They serve Black Angus beef and only offer locally-caught seafood, ensuring that everything is top rate every single time.
All the meats at Yemanja Woodfired Grill are cooked over a wood fire with mesquite wood, making for some of the best dishes around the island. Their dishes will only provide the freshest and best ingredients that they can find, which means that you can trust that you're getting the best of the best every time you visit this great establishment. Nothing is prepared in advance here, which means that you might have to wait a little bit longer, but when you're getting a much fresher meal and such fine dining offerings, it will prove to be well worth it in the end.
If you want traditional Aruba dining with the ambiance and friendly island atmosphere that everyone craves, this is the place to go. Yemanja Woodfired Grill offers candlelit ambiance for all the guests at the restaurant, along with the most exquisite preparation and service that you could find on the island. With a full bar and a great wine selection, the Grill is definitely worth checking out. If you like that classic wood fired taste, but want something finer than a steakhouse then you need to visit this restaurant while you're in town.
With so many great dining selections in Aruba, it might be hard to choose just one. However, if you want fresh, fine dining that will make you want to come back time and time again, you need to visit Yemanja Woodfired Grill. There is something for just about everyone, from steaks to seafood, and even an extensive wine selection, which the staff can assist you with if need be. A touch of contemporary presentation sets off this great establishment, easily making it one of the most popular choices in Aruba for those who want classic wood fired taste with a little more class than what is offered at many other restaurants and steakhouses.