Passions on the Beach is aptly named
---
---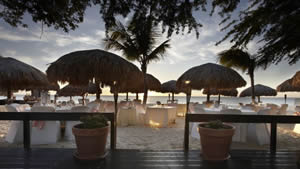 Imagine a candle lit dinner, with the sound of waves as music and the feet touching the sand on the beach. It could be the most romantic meal of anybody's life and Passions on the Beach makes it possible. All this can be experienced whilst having a delicious meal on the seashore of Aruba. Aptly named as one of the most romantic eateries in Aruba, the restaurant also offers its diners a view of the beautiful sunset simultaneously.
Apart from the restaurant, the place is also equipped with a bar. The seafood served in Passions on the Beach is mouthwatering and the menu consists of dishes which are made as per the catch of the day. Housed in the Amsterdam Manor Beach Resort, it is a perfect place for a couple who is looking for a passionate and tasteful dinner.
The restaurant is open from 6pm and one can make reservations online. If one is lucky, he or she will get a table just a few meters away from the sea and what could be a better place to have exotic food than on the sea shore. The lights consist of torches on the table which make the ambience more appealing and ideal for someone who is looking for a perfect getaway with his or her loved one.
Apart from the eatery, the restaurant also provides a chance to celebrate special events like anniversaries, birthdays, etc. One will just need to contact them and let them know of the nature of the celebration. It is bound to be an unforgettable one with the excellent service and unparalleled food. The dishes are also priced competitively and when it is compared to the whole dining experience, most of the diners find it meager.