Arubiana Inn – A Small Paradise in Aruba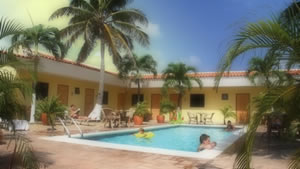 Arubiana Inn is a boutique resort that exemplifies the best in Caribbean aesthetics and style. Nestled north of Oranjestad, this small but elegant inn is strategically situated and just a few minutes away from various beaches and other exciting restaurants and recreational facilities. The inn is just around 20 minutes away from most of the tourist attractions in the island, while the Manchebo and Eagle beaches can be reached in just a one-minute drive. If you want to go to Palm Beach, which is a popular spot for teens and bar hoppers, it is just five minutes by car from the resort. The Boca Catalina and the Arashi beaches, which are located at the northern part of Aruba, are also easily accessible by car.
Arubiana Inn only has 18 rooms, so it is advisable that you book early to ensure that you will have a place to stay. Each of the suites is inspired by local Caribbean design that is spacious and consisting of several amenities, such as a microwave, dinner sets, a fridge, and water heater. All rooms are also equipped with air conditioning units, king-sized beds, wireless Internet, large closets, fully furnished bathrooms, and cable television. If you need to use fax and do other business activities, you can always ask the help of the hotel concierge.
There are a lot of things you can do in Arubiana Inn. First, you can immediately jump in the swimming pool that is located at the center of the inn. The moment you step inside the hotel, you will also be provided with a complementary drink of your choice. You can have coffee, tea and even soda. From eight to ten in the morning every day, you can also avail of complimentary tea and coffee. By the way, many people (including the locals) head to this small inn for their fantastic breakfast service, which is only $9.50 per person. Also, you do not have to bring a beach towel because there are complimentary towels available at the poolside.
There are various activities that you can do when you book at Arubiana Inn. If you are interested in discovering the sea life of this Caribbean island, you would surely love to try diving, wind surfing, snorkeling, and even sailing. However, if you are planning to relax and have a good time, you might want to try the wellness center found in Manchebo beach. The best places for all these activities are all conveniently located near the inn.