Aruba Beaches
Aruba's trademark
---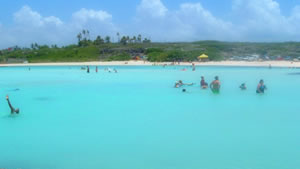 A few of the world's most beautiful beaches line the cost line of Aruba. Aruba's beaches are known for their stunning white cristal sands and relaxing, calm waters. Beaches along the south-western side of the island are good for relaxing and swimming, while the beaches on the north-western side are perfect for kite boarding and windsurfing. The beaches on the east side of Aruba are popular by surfers.
Above Palm Beach are Arashi beaches and Malmok beaches, these are the best snorkeling destinations. Good accessible by car and public bus. Palm Beach is the best location for people watching. Most of the High Rise Hotels line the Palm Beach strip. Along Palm Beach are plenty of beach bars and there are water sports operators. This beach is more crowded than the other beaches on Aruba.
South of Palm Beach are Eagle Beach, Manchebo Beach and Druif Beach. These are widest beaches of Aruba. The Low Rise Hotels are situated along these beaches. These beaches are perfect for relaxing, swimming or just lazy sunbathing. More south, next to the airport you find Havana Beach. Here you are treated like a celebrity. Havana Beach Club serves the best cocktails. The southernmost beach on Aruba is Baby Beach. With its shallow waters this is the perfect beach for families with little kids. The clear waters make it a popular snorkeling location to.