Divi Dutch Village Resort Aruba – Experiencing Aruba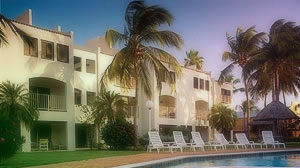 Aruba is one of the most popular tourism destinations in the Caribbean Sea, and it's easy to see why – the island is medium sized, at around seventy square miles, but it provides a wide variety of different possible activities, consistently beautiful weather, and a friendly populace that speaks a variety of languages. Although Aruba is technically a part of the Kingdom of the Netherlands, and Dutch is the national language, there are large amounts of people speaking English, Spanish, and French across the island. In this article, we'll take a look at one of the island's most popular getaways, the Divi Dutch Village Resort Aruba, which allows visitors to experience Aruba in both the traditional Dutch and native Aruban fashions.
The rooms come in a variety of sizes and types, from the Studio Suite with a single king-sized bed and sleeper sofa to the Two-Bedroom Suite, with two king-sized beds each with their own room and bathroom. The rooms are constructed in traditional Dutch architectural styles, and there are many deals to allow you to save some extra money. A good traveler tries to save money, but you should never sacrifice comfort for the sake of saving a few extra bucks (otherwise, what's the point of taking the vacation in the first place?). The Divi Dutch Village Resort Aruba has made it easy to stay and save by allowing kids under the age of twelve to stay and eat for free! There is even a chance to win a free Caribbean vacation for two when you visit a Divi resort.
There are a number of activities at the Divi Dutch Village Resort Aruba, such as golfing, snorkeling, beach and pool volleyball, swimming, windsurfing, hiking, bird watching, dancing, and on, and on. There are virtually endless ways to spend your time, and some of these activities can be experienced on Aruba like nowhere else.
For example, the constant forty-five mile-per-hour winds on the sea around Aruba have made it one of the most popular spots in the world for windsurfers, and there are lots of places to rent equipment and get lessons. There are scuba and snorkeling lessons for both kids and adults, and golf pro shops to help you keep your game up at the Divi Dutch Village Resort Aruba. There are even several species of birds unique to Aruba for the animal lover, such as the Aruban parakeet, as well as many unique lizards, like geckoes.